To Book Tours Click here!  Need accommodation? Click here!  To Request Information Click here!  To order a Visitors Guide or a street map Click Here!
Fort Myers Beach Things To Do:
Play!
Fort Myers Beach is best known for relaxing by the beautiful emerald waters on the sugar white sand, but there are plenty of other fun and exciting things to do all around or near the beach!
Fort Myers Beach offers wonderful water sports including fishing charters, boat rentals, a pirate cruise, dolphin or sunset cruises. Or how about a wave runner dolphin tour? Or renting a kayak and exploring the islands of our back bay along the Great Calusa Blueway? Or parasailing? Or renting a fishing pole at the pier? Or how about a jet pack flight?
History abounds nearby at world-famous attractions like the Edison-Ford Winter Estates. Visit the Mound House for a look at Estero Island's native Calusa culture.
Birding at nature preserves and state parks are just minutes away. Or give yourself an island tour on a bicycle, scooter or Segway. After watching a beautiful sunset from your room, your blanket or a sunset cruise, take the kids to a mini-golf course or amusement park.
Do any of these sound like fun yet?
Fort Myers Beach "things to do" also include vibrant nightlife. Click on See Who's Playing to discover local musicians performing on or near the beach.
No matter how you roll, there's an attraction for you on or near Fort Myers Beach!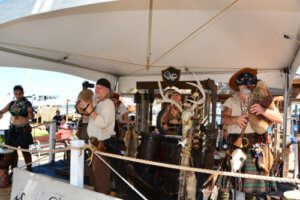 This afternoon the Fort Myers Beach Chamber of Commerce announced that the 12th Annual Fort Myers Beach Pirate Festival scheduled for Oct 6-8, 2017 will be held, however, it will have a Modified Format and Schedule.
"Because of the continuing effect of Hurricane Irma on the businesses and residents of Ft Myers Beach and all of Florida, and due to the outpouring of support we received from this morning's cancellation announcement, we feel it is in everyone's best interest to hold the 2017 Pirate Fest with a modified schedule." said Jacki Liszak, President of the Fort Myers Beach Chamber of Commerce. Liszak added, "The focus of our island right now is getting our business and residential life back to normal and we are working with limited resources.  We feel that with a modified schedule and format, our Pirate Fest Weekend will still bring much needed stress relief and normalcy to our residents and guests while allowing our businesses to rebound from the Hurricane's financial impact."
The event will go on; however, there will a number of elements that we will not be able to provide this year.  In addition, the event will be spaced out along Old San Carlos and there will be NO admission fee!
The 2018 event is full steam ahead and currently scheduled for October 5-7, 2018. Pirate Festival Entertainment and Vendor Coordination Belinda Hadcock is happy that there will still be an event, "There's always a silver lining," said Hadcock, "and we're going to take advantage of this year's event changes to bring an even bigger and better Pirate Fest to Fort Myers Beach next year!"
For those who need more information about this year's changes or next year's event, please contact the Fort Myers Beach Chamber at 239-454-7500 or events@fmbchamber.com. For entertainer and vendor questions please contact Belinda Hadcock at admiralbelinda@gmail.com.