Amusement
Try escaping an escape room, bowl a perfect score, visit the casino and more! The amusement and entertainment in Fort Myers Beach offer some extra fun to your getaway.
Zoomers Amusement Park
17455 Summerlin Rd Fort Myers, FL 33908
Zoomers Amusement Park is an indoor/outdoor facility with a Family Fun Arcade, featuring our Winner's Circle where great merchandise and the latest electronics can be won. Zoomers offer an amazing...
[ Read More ]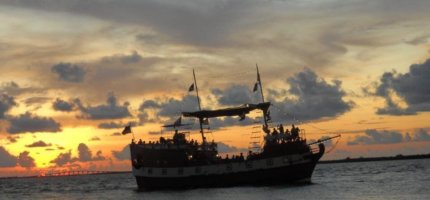 Salty Sam's Pirate Cruise
2500 Main Street Fort Myers Beach, FL 33931
The Salty Sam's Pirate Cruise aboard the Pieces of Eight is a 90 minute swashbuckling pirate show aboard a 65ft replica Spanish galleon. Buccaneers young and old will experience a real-life pirate...
[ Read More ]
Travelscapes By Land and Sea
Fort Myers Beach Community Pool
2600 Oak Street Fort Myers Beach, FL 33931
Beach Bowl, Billiards and Sports Bar
17651 San Carlos Blvd. Ft Myers Beach., FL 33931
Bay Oaks Recreation Center
2731 Oak Street Fort Myers Beach, FL 33931
Sun Splash Family Waterpark
400 Santa Barbara Blvd. Cape Coral, FL 33991
Sea Racer Tours
2500 Main St. Fort Myers Beach, FL 33931
All Aboard Travel
12530 World Plaza Lane #1 Fort Myers, FL 33907