Trolley & Tram Information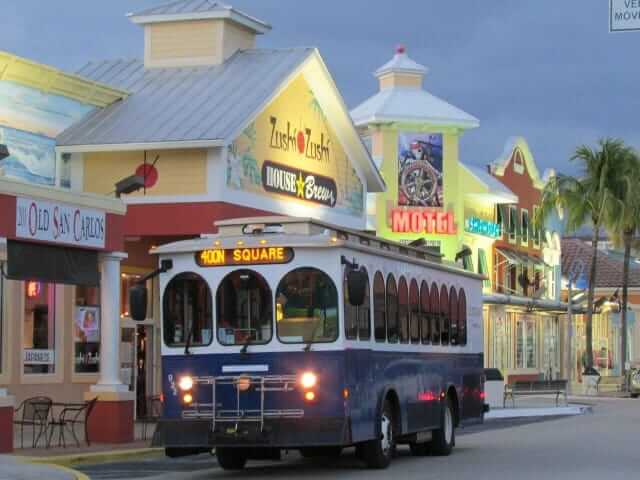 The Fort Myers Beach Trolley Service
Get where you need to go with the Fort Myers Beach Trolley!
The Transit App
The Transit app includes real time tracking and will help you find the nearest stop for the trolley or tram. Click here to download the app. For more information on Lee Tran's other bus routes visit their website. You can also call 239-533-8726 for assistance.
Routes
490 ROUTE: Begins at the Beach Park & Ride located at Summerlin Road and Pine Ridge Road and runs to Times Square.
410 ROUTE: Runs from Bowditch Point Park to Lover's Key State Park.
Stops for the trolley are indicated by the blue and white 'Trollee' signs on San Carlos Blvd. and Estero Blvd.
Free Tram Service
The FREE beach tram runs from Bowditch Point to Matanzas Pass Preserve Daily. Service goes from 8am-11:30pm daily. A tram should come by approximately every 15-30 minutes. The Trams are ADA accessible and can carry one mobility device.
Timetables and Map
Here's a timetable and map for all three routes.
Fare Information
It's free to park at the Beach Park & Ride and the Trolley only costs 75 cents a ride, $2 for an all-day pass or $4 for a 3-day pass. Be sure to have the exact fare as the drivers CANNOT make change! You can also use the cashless methods described below in the next section.
Discounted fares are available to seniors aged 65 and older, persons with disabilities and full-time students. Riders who qualify for our student and senior discounted TropiCards can purchase a discounted fare pass at the Rosa Parks Transportation Center.
Children under 42 inches ride LeeTran at no charge.
Cashless Payment Information
LeeFare App
The LeeFare app allows for for quick and contactless fare payments. The app is available for Apple and Android mobile devices.
Tropicard and Limited Use Passes
These cards can be loaded with funds to make your transit experience smarter, quicker and safer. Get your card here and go.
Bring Your Bike
The Trolley can carry bicycles using racks on its exterior.