Boat & Sailboat Rentals
Enjoy a leisure trip out on the water with your own private boat or sailboat rental. Whether you're interested in a cycleboat, kayak, charter boat, or anything else, find the rental you need below!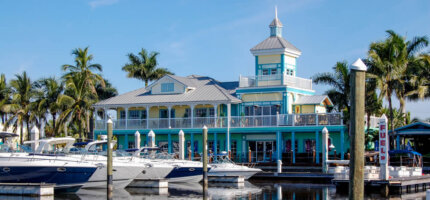 Salty Sam's Marina
2500 Main St. Fort Myers Beach, FL 33931
We provide wet and dry slips and perform all types of repairs and service. Kayak and boat rentals are also available for a day of adventure on the water.
Moss Marina
450 Harbor Court Fort Myers Beach, FL 33931
We're you full service marina of choice on Fort Myers Beach! We do boat storage both wet and dry as well as well as docking by the hour, day, week or month. Fuel up or visit our ship store for all...
[ Read More ]
Fort Myers Beach Sea and Sun Rental
645 Old San Carlos Blvd Fort Myers Beach, FL 33931
Lagerhead Cycleboats
2500 Main Street Fort Myers Beach, FL 33931
Nautical Tiki Cruises
465 Old San Carlos Blvd. Fort Myers Beach, FL 33931
Adventure Water Sports
1160 Estero Blvd. Fort Myers Beach, FL 33931
Snook Bight Marina
4765 Estero Blvd. Fort Myers Beach, FL 33931