FMB CHAMBER MEMBERSHIP
OUR MISSION
Our goal is simple. We strive to sustain a vibrant business climate, promote commerce, champion the interests of local businesses and protect the essence of the Fort Myers Beach Community. We would like to help your business prosper and grow in the upcoming year.
MEMBERSHIP BENEFITS INCLUDE
Display of your brochures and/or business cards in our welcome center.
A website listing for your business in appropriate business categories
Posting of your deals and events to our website. You can use your login info or have us do it for you.
Advertisement of your events, deals or other information at your request in our weekly Chamber Chatter e-blasts to the membership.
Posting of your events, deals and other information on the Chamber's social media channels at your request.
Purchase advertising on our website. This is for members only.
A listing in our annual Visitor's Guide.
NETWORKING EVENTS
The FMB Chamber hosts monthly networking events, fundraisers, seminars, and other activities, all aimed at helping businesses and business owners connect and increase visibility in the community. Every month the FMB Chamber hosts three networking events:
Coffee Connection: 1st Thursday of the month, 8 a.m. – 9:30 a.m. (Various member locations).
Member Luncheon: 2nd Thursday of the month, 11:30 a.m. – 1 p.m. (Various member locations).
Business After Hours: 3rd Thursday of the month, 5:30 p.m. to 7 p.m. (Various member locations).
The Chamber also offers its members sponsorship opportunities while showcasing their business at special annual events, such as Mini Masters, Taste of the Beach, Bowling Bash, Tapa Hop, and our annual Golf Tournament.
WHAT OUR MEMBERS SAY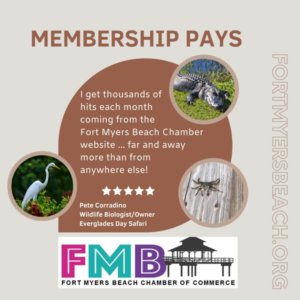 READY TO GET STARTED?
If you're sure you want to join, download and fill out our membership application which is a fillable PDF. Then contact Sherry at 239-454-7500 or [email protected] for correct pricing information. Lastly, send it back to [email protected], drop it off at our main office at 100 Lover's Lane, FMB or send it via mail.
Call 239.454.7500 or email [email protected] with any questions you might have.
Want More Information?
If you're still not sure about joining but want more information, then fill out the inquiry form below and our membership director will get back with you.