Arts, Culture, Music & Museums
Enjoy a night out at the Dinner Theatre, a day at the Art Gallery, or explore the ocean at the Marine Science Center. There are many ways to take in the culture and arts found in Fort Myers Beach. Start discovering below!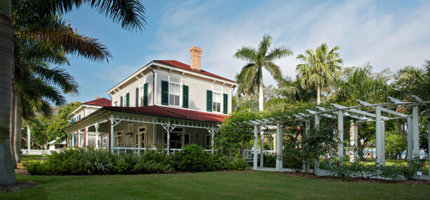 Edison & Ford Winter Estates
2350 McGregor Blvd. Fort Myers, FL 33901
Edison & Ford Winter Estates is a National Register Historic Site and is one of the most visited historic homes in the nation. Visitors will feel like they stepped back in time when they tour the...
[ Read More ]
Cape Coral Historical Museum
544 Cultural Park Boulevard Cape Coral, FL 33990
Southwest Florida Symphony
8290 College Parkway #103 Fort Myers, FL 33919
Fort Myers Beach Friends of the Arts
7225 Estero Blvd Fort Myers Beach, FL 33931
Broadway Palm Dinner Theatre
1380 Colonial Blvd. Fort Myers, FL 33907
The Mound House
451 Connecticut Street Fort Myers Beach, FL 33931
Fort Myers Beach Public Library
Fort Myers Beach Art Association and Gallery
3030 Shell Mound Blvd Fort Myers Beach, FL 33931
Florida Native Butterfly Society
1815 Fowler Street Fort Myers, FL 33901
Ostego Bay Foundation Inc. Marine Science Center
718 Fishermans Wharf Fort Myers Beach, FL 33931
9/11 Memorial
121 Lenell Road Fort Myers Beach, FL 33931
Times Square Merchant & Event Association
1001 Estero Blvd Fort Myers Beach, FL 33931