Arts, Culture, Music & Museums
Enjoy a night out at the Dinner Theatre, a day at the Art Gallery, or explore the ocean at the Marine Science Center. There are many ways to take in the culture and arts found in Fort Myers Beach. Start discovering below!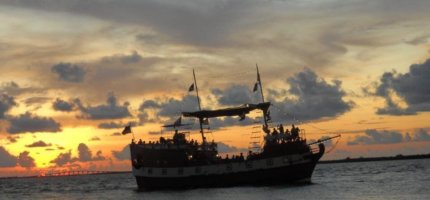 Salty Sam's Pirate Cruise
2500 Main Street Fort Myers Beach, FL 33931
The Salty Sam's Pirate Cruise aboard the Pieces of Eight is a 90 minute swashbuckling pirate show aboard a 65ft replica Spanish galleon. Buccaneers young and old will experience a real-life pirate...
[ Read More ]
Edison & Ford Winter Estates
2350 McGregor Blvd. Fort Myers, FL 33901
Fort Myers Beach Art Association and Gallery
3030 Shell Mound Blvd Fort Myers Beach, FL 33931
Muscle Car City
3811 Tamiami Trail Punta Gorda, FL 33950
The Mound House
451 Connecticut Street Fort Myers Beach, FL 33931
Fort Myers Beach Friends of the Arts
7225 Estero Blvd Fort Myers Beach, FL 33931
River District Alliance
1400 Jackson St. Fort Myers, FL 33901
Yesteryear Entertainment
107 McKinley Ave. Lehigh Acres,, FL 33936
Broadway Palm Dinner Theatre
1380 Colonial Blvd. Fort Myers, FL 33907
Shark Bar & Grill
17979 San Carlos Blvd Fort Myers Beach, FL 33931
Ostego Bay Marine Science Center
718 Fishermans Wharf Fort Myers Beach, FL 33931
Times Square Merchant & Event Association
1001 Estero Blvd Fort Myers Beach, FL 33931