Event
Original Artwork, Crafts, Bake Sales & Raffles Display your work and enjoy our biggest fundraiser of the year. Food truck from Munchies SmokeHouse BBQ will be there! Open To Indoor... Read More
---
Event
Kiwanis 14th Annual BUG Chase 5K Run 2022 The BUG Chase is back! We are buzzing with excitement to bring our running community back together in-person to benefit the Fort... Read More
---
Event
Come Celebrate The Starfish At Gili Anna Celebrating the "Starfish", Gili Anna Designs will have special guest Benny creator of 14k gold and diamond sea-life jewelry. Drinks and treats and... Read More
---
Shuckers at the Gulfshore & The Cottage Bar
1250 Estero Blvd. Fort Myers Beach, FL 33931
---
Brown & Brown Of Southwest Florida, Inc.
6611 Orion Drive Fort Myers, FL 33912
---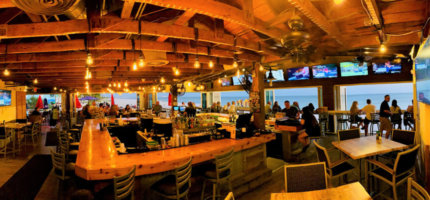 Shuckers at the Gulfshore & The Cottage Bar
1250 Estero Blvd. Fort Myers Beach, FL 33931
Unique historic waterfront dining on the waters of The Gulf Of Mexico since 1921, family owned since 1972. Open at 8 AM for breakfast, lunch, dinner, and late night menu, close at midnight. Open air...
[ Read More ]
---
Blog | Posted on March 6, 2021
Do you like Mac's #wearefmb bandana? Get yours at https://fmbcommunityfoundation.com/shop/. Dogs Are Welcome On Fort Myers Beach Vacations are more fun with your furry friend, and Fort Myers Beach is... Read More
---
Event
Saturday February 12, 2022 11am-1pm Beach Talk Radio WATCH LIVE on Facebook or YouTube! Don't Miss the Raffles and Swag Bags! Baskets on Display January 31 – February 11 Fort... Read More
---
Event
Who's Ready For Some Pizza MARK YOUR CALENDARS! Give Back Night for Keep Lee County Beautiful is Thursday, February 3rd from 4pm-8pm at Blaze Pizza. 20% of proceeds go to... Read More
---
page
ADVISORIES AND UPDATES FOR FORT MYERS BEACH CONDITIONS From the Florida Fish and Wildlife Conservation Commission (January 7, 2022) The red tide organism, Karenia brevis, was not observed in samples... Read More
---