Fort Myers Beach Is Dog Friendly
March 6, 2021
•
Dine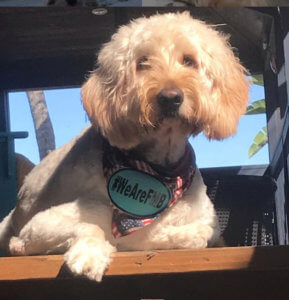 Dogs Are Welcome On Fort Myers Beach
Vacations are more fun with your furry friend, and Fort Myers Beach is a great dog friendly destination! Here is all the information you need to plan a trip with your pup to our beautiful island.
Dog Friendly Hotels and Dining
Find a place to stay by browsing our Pet Friendly accommodations. Then take a look at our Pet Friendly restaurants for the times you want to eat out.
Taking Your Dog On The Beach
Dogs are welcome on Fort Myers Beach, but there are a few rules.
Keep you dog leashed at all times on a non-retractable leash. The leash can be no more than six feet long.
Dogs must be kept under control at all times and not allowed to touch or disturb others.
Please pick up after your dog and dispose of their waste in the trash.
Please note that these Lee County Parks and State Lands on Fort Myers Beach are NOT dog friendly.
Bowditch Point Park
Lynn Hall Memorial Park
Crescent Beach Park
Matanzas Pass Preserve
Little Estero Critical Wildlife Area (CWA) per Town Code Sec. 14-4 (a)
Dog Friendly Parks
Lee County Parks has lots of options for a little 'road trip' for you and your four legged pal. Remember to always clean up after your dog and dispose of the waste when visiting these parks.
Unleashed Parks
There are two unleashed areas near Fort Myers Beach where your dog can cut loose and also socialize with other dogs.
First, is the famous Dog Beach in Bonita Springs. Here your dog can run and frolic in the Gulf while making some new friends. Doggie shower stations are provided to rinse your dog afterwards.
Then there's Woof-a-Hatchee dog park at the Wa-Kee-Hatchee recreational center. This park features two play areas, one for small dogs and one for large dogs. Shower stations are also provided here as well.
Leashed Parks
Lee County has lots of dog friendly parks where you can take you pooch for a walk. Click here for a complete list of leashed parks as well as dog rules and regulations.
Mound House & Newton Park
The Mound House and Newton Park are Town of Fort Myers Beach parks. Dogs are permitted on the grounds only and must be leashed at all times.
Lovers Key State Park
Dogs are permitted on the hiking and biking trails of Lovers Key State Park if they are on a leash. However, dogs are not permitted on the sandy beach along the shoreline.