Stevens Construction Project Spotlight: East And Greenwell Insurance
September 15, 2023
•
Services
East and Greenwell Insurance is a perfect example of how getting involved early with the construction team can save money and ensure the project is delivered on schedule, even in a hurricane.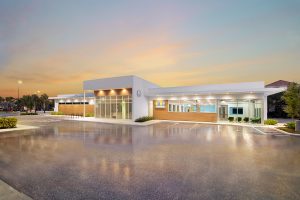 Jeff East and Kevin Greenwell, the owners of East and Greenwell Insurance, came to us knowing they wanted to build their own building that would allow their insurance business to grow but they weren't sure where to start with their newly acquired lot at 10061 University Plaza Drive in the bustling Gulf Coast Town Center. 
Through seven months of preconstruction, Stevens Construction collaborated with Jeff, Kevin and the architect, Ron Reitz to design an efficient yet modern building that aligned with their budget and schedule, while allowing them to earn income with tenant space.  As the plans progressed, Stevens Construction ensured the project continued to meet their budget and schedule goals, educating them on the cost of different options of materials and finishes, offering $346,000 in cost-savings suggestions.
The result is a 12,123-square foot building that houses the expanded East and Greenwell office but also 5,536-square-feet of leasable space situated into four private suites ranging from 1,200 to 1,460-square-feet.
Offering homeowners, flood and an array of insurance coverages, East and Greenwell features a welcoming lobby, 14 private offices and conference rooms.  To promote collaboration while allowing room for growth, East and Greenwell also houses multiple open concept training and work areas and a spacious employee lounge with plenty of room for ping pong and company lunches.  East & Greenwell provides a modern workplace with dropped ceilings, exposed dryfall, reclaimed wood accent walls, quartz countertops and pendent lighting.
Constructed during Hurricane Ian, East and Greenwell was still delivered to the client two weeks ahead of schedule, even while Ken Redman, the superintendent was rebuilding his own home after flooding.
"They communicated incredibly well, provided a sense of calm in what we expected to be a very stressful process.  Mike Isabella spent the time ensuring our pricing was the best available.  Mark Pelafas and Ken Redman are the best construction team we've ever seen.  Their most remarkable accomplishment, in spite of Hurricane Ian, we still received our certificate of occupancy ahead of schedule.  We recommend anyone and everyone looking to take on a construction project to start and finish with Stevens Construction."
Jeff East and Kevin Greenwell
East & Greenwell Insurance
Team:
Mark Pelafas, Project Manager
Ken Redman, Superintendent
Gina Varner, Project Administrator
Studio for Architecture, Architect