Why Book a Vacation Rental On Fort Myers Beach?
March 9, 2021
•
Stay
There Are Lots Of Benefits To Booking A Vacation Rental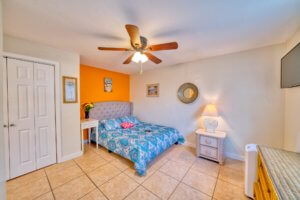 It can be daunting when you are looking at the options for your next Fort Myers Beach vacation. To help you, Sea Gypsy Vacation Rentals has come up with a list of 7 reasons to consider a vacation rental.
Benefits of Vacation Rentals
Here are some key benefits professionally managed vacation rentals offer you over hotels and resorts:
Enhanced Safety: Vacation rentals have very few common areas and offer minimal interaction with staff and other guests. This allows for a socially-distanced stay. They are also scrupulously cleaned in accordance with national, state, and local guidelines. In additions, many properties have either electronic locks or lockboxes for a contactless check-in and check-out!
Better Value: Enjoy additional space, privacy, and amenities all included.
In addition, many rental properties have full kitchens, so you can prepare meals and snacks at the property!
Endless Options: Vacation rentals offer more available properties, more variety, and more destinations to choose from. Whether you want to be at the hopping north end of the island or the quieter south end, you can find something to fit your needs!
Comfort of Home: Vacation rentals create a more personalized, memorable vacation experience with the comfort and convenience of an actual residence.
Local Flavor: Explore the neighborhood and discover aspects of your destination you might not encounter otherwise.
Great for Families: Vacation rentals have multiple bedrooms, kitchens, laundry rooms, and easy access to local entertainment.
Large families have to rent multiple hotel rooms. With a vacation rental, however, you can choose 2, 3, 4 or more bedroom options!
Ready To Book Your Next Stay?
Finding your next vacation rental is easy with Sea Gypsy Vacation Rentals! Search their availability here, or give them a call at 239-463-0078 and one of their reservationists will be happy to assist you!