Condos
Whether renting for a getaway or looking to own, there are many Condos in Fort Myers Beach that have all of the amenities that you're looking for! Check out what's offered at the Beach Clubs or Condo Associations below!
Fort Myers Beach Timeshares
Estero Blvd, Fort Myers Beach, FL 99391
Fort Myers Beach timeshares are found at luxury, beachfront resorts boasting gorgeous accommodations and fantastic on-site amenities. Shop SellMyTimeshareNow.com for an impressive selection of Fort...
[ Read More ]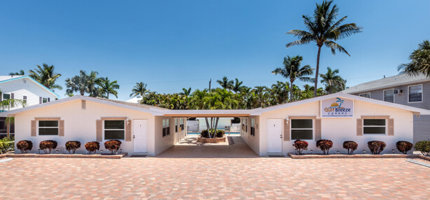 Gulf Breeze Condos
5577 Estero Blvd. Fort Myers Beach, FL 33931
Gulf Breeze Condos provide the perfect escape any time of the year. We're just across the street from the beach; relax by our heated pool, explore seven miles of shoreline, rent a personal...
[ Read More ]
Coldwell Banker Vacations
7205 Estero Blvd; Suite 27 Fort Myers Beach, FL 33931
Lahaina Inn Resort
5580 Estero Blvd. Fort Myers Beach, FL 33931
Caper Beach Club
2810 Estero Blvd. Fort Myers Beach, FL 33931
Distinctive Beach Rentals
2801 Estero Blvd. Unit F Fort Myers Beach, FL 33931
Pointe South Condominiums
5000 Estero Blvd. Fort Myers Beach, FL 33931
Floridarentals.com
5323 Millenia Lakes Blvd. Suite 300 Orlando, FL 32839
Kahlua Beach Club
4950 Estero Blvd. Fort Myers Beach, FL 33931
Smugglers Cove Condo Association
5100 Estero Blvd. Fort Myers Beach, FL 33931
Beach Accommodations LLC
1321 Santos Road Fort Myers Beach, FL 33931
Fairview Isles Condominium Assoc
6655 Estero Blvd. Fort Myers Beach, FL 33931
Sandy Toes Place (condo #220 at Kona Beach Club)
480 Estero Blvd. #220 Fort Myers Beach, FL 33931
Cane Palm Beach Condominium
600 Estero Blvd. Fort Myers Beach, FL 33931
My Condo In Paradise
5100 Estero Blvd. #4B5 Fort Myers Beach, FL 33931
Grandview at Bay Beach/ London Bay Homes
4530 Bay Beach Lane Fort Myers Beach, FL 33931
Marina Village At Snug Harbor
645 Old San Carlos Blvd. Fort Myers Beach, FL 33931
Kona Beach Club
478 Estero Boulevard #214 Fort Myers Beach, FL 33931
Vacasa Vacation Rentals
15050 Elderberry Lane Fort Myers Beach, FL 33931