Fort Myers Beach New Year's Eve & The Town Birthday
This event ended on
---
---
Times Square
830 Estero Blvd Fort Myers Beach, FL 33931
---
NOTICE: THERE ARE NO NEW YEAR'S EVE OR TOWN BIRTHDAY FESTIVITIES PLANNED FOR 2022.
Fort Myers Beach Is The Place To Be On New Year's Eve!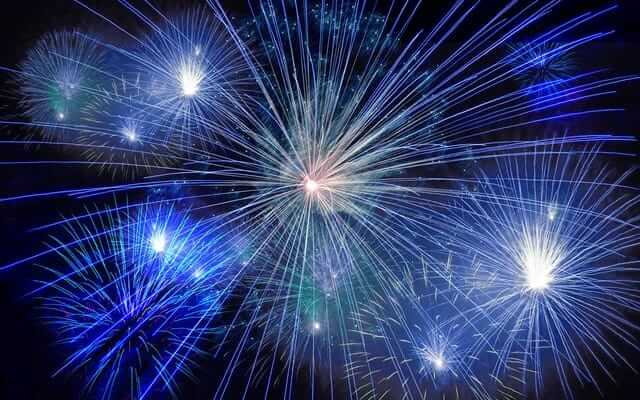 If you are looking for New Year's Eve fun then come on down to Fort Myers Beach!
So Many Ways To Enjoy The Day
Eat Drink And Be Merry
There are plenty of great Fort Myers Beach restaurants where you can eat and drink throughout the day. You can also enjoy great Happy Hour deals. In addition, you might enjoy taking a boat cruise to see local wildlife or to visit one of our local parks such as Bowditch Point or Matanzas Pass Preserve.
Town Birthday Celebration
The Town will be handing out cupcakes in Times Square starting at noon to celebrate the Town's birthday. Cupcakes will be available while supplies last which is normally around 1 pm.
Live Music In Times Square
Double Standard will play from 7 P.M. till midnight in Times Square.
Please check out our live music page for other establishments that may be having music.
Fireworks
After the ball drop at midnight, the fireworks will begin from the Fort Myers Beach Pier.
FYI
Bridge Closing
From midnight to 1:30 A.M. the Matanzas Pass Bridge will be closed to oncoming traffic. Big Carlos Pass Bridge on the south end of the island will remain open.
Trolley Service
Consider taking the Beach Trolley to Fort Myers Beach to enjoy New Year's Eve activities! Please click here for more information on the trolley.
Extended Service For New Year's Eve
The free open-air beach trams will extend service until 1 A.M. from Bowditch Point Park to the beach library.
Route 410 from Bowditch Point Park to Lovers Key State Park will extend services times to 1 A.M. Jan 1, 2022.
Route 490 which travels between Times Square and the Beach Park and Ride at 11101 Summerlin Square Dr. will run its normal service until 8:50 P.M. At that time, a shuttle service will start from the Main Street Park & Ride (at the foot of the Matanzas Pass Bridge) to the Beach Park and Ride until 1 A.M. Jan 1, 2022. Riders seeking transportation from the beach to the Beach Park and Ride after 8:50 P.M. will have to walk over the bridge to the Main Street Park and Ride to catch a shuttle to the Beach Park and Ride.
Parking
Paid parking lots close to Times Square are located at Lynn Hall Park, on Old San Carlos Blvd., under the Matanzas Pass Bridge, and across from the Lani Kai Resort. Please click here for more information on parking.
For information specifically about Town parking, text the word PARKING to 239-FMBeach (239-362-3224) or visit the parking section at www.fmbgov.com > Things to Do > Parking. The Town's Beach and Street Enforcement (BASE) team monitors town spaces and posts the percentage of their availability at 11 a.m., 2 p.m., and 5 p.m. daily.