Beachfront
Stay at a cozy Beachfront Villa or Condominium Home and enjoy all the luxuries of home right on the beach! Go shelling or watch the morning sunrise over the ocean. The options for relaxing are endless when you stay on the beachfront.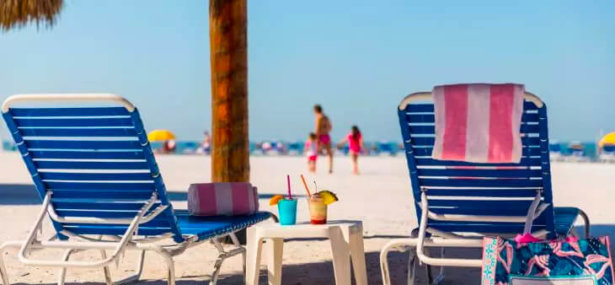 Pink Shell Beach Resort and Marina
Get a beach view room, guaranteed! Plus, every reservation includes breakfast for two each day, two drinks, two bottles of Voss water, Pink Shell beach bag, and daily beach lo...
Pierview Hotel & Suites
1160 Estero Blvd. Fort Myers Beach, FL 33931
Fort Myers Beach Hotel located on Fort Myers Beach, walking distance to the Pier, Times Square and all FMB restaurants & attractions! Grab a beach chair and umbrella and soak up the sun or soar...
[ Read More ]
Fort Myers Beach Timeshares
Estero Blvd, Fort Myers Beach, FL 99391
Fort Myers Beach timeshares are found at luxury, beachfront resorts boasting gorgeous accommodations and fantastic on-site amenities. Shop SellMyTimeshareNow.com for an impressive selection of Fort...
[ Read More ]
Edison Beach House
830 Estero Blvd. Ft Myers Beach, FL 33931
Forget about reality, because at The Edison Beach House, only paradise exists. Lounge in style at one of the top hotels located right on Fort Myers Beach, where a gorgeous oceanfront view from...
[ Read More ]
Best Western Plus Beach Resort
684 Estero Blvd. Fort Myers Beach, FL 33931
All Rooms Overlook The Beach! Come discover the BEST WESTERN PLUS Beach Resort located in Fort Myers Beach, Florida. Our resort is located directly on a secluded beach at the north end of Estero...
[ Read More ]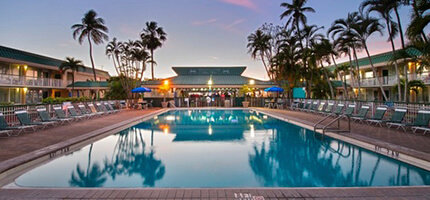 Wyndham Garden Hotel
6890 Estero Blvd. Fort Myers Beach, FL 33931
Located directly on the Gulf of Mexico offering 300 yards of white sandy beach. Accommodations include 103 tropically decorated rooms, including beachfront units and fully equipped gulf front suites....
[ Read More ]
Carousel Beach Inn
6230 Estero Blvd. Fort Myers Beach, FL 33931
Coldwell Banker Vacations
7205 Estero Blvd; Suite 27 Fort Myers Beach, FL 33931
Lani Kai Island Resort
1400 Estero Blvd. Fort Myers Beach, FL 33931
The Neptune Resort
2310 Estero Blvd. Fort Myers Beach, FL 33931
DiamondHead Beach Resort
2000 Estero Blvd. Fort Myers Beach, FL 33931
Outrigger Beach Resort
6200 Estero Blvd. Fort Myers Beach, FL 33931
Island Girl & Warm Sands
30 Gulf Beach Rd Fort Myers Beach, FL 33931
Kahlua Beach Club
4950 Estero Blvd. Fort Myers Beach, FL 33931
Cottages Of Paradise Point
466 Estero Boulevard Fort Myers Beach, FL 33931
GullWing Beach Resort
6620 Estero Blvd. Fort Myers Beach, FL 33931
Smugglers Cove Condo Association
5100 Estero Blvd. Fort Myers Beach, FL 33931
Caper Beach Club
2810 Estero Blvd. Fort Myers Beach, FL 33931
Cane Palm Beach Condominium
600 Estero Blvd. Fort Myers Beach, FL 33931
Gulfview Manor Resort
6530 Estero Blvd. Fort Myers Beach, FL 33931
My Condo In Paradise
5100 Estero Blvd. #4B5 Fort Myers Beach, FL 33931
Lahaina Inn Resort
5580 Estero Blvd. Fort Myers Beach, FL 33931
Bel Air Beach Club
780 Estero Blvd. Fort Myers Beach, FL 33931
Pointe South Condominiums
5000 Estero Blvd. Fort Myers Beach, FL 33931
Mariner's Boathouse & Beach Resort
7630 Estero Blvd Fort Myers Beach, FL 33931
Bahama Beach Club
5370 Estero Blvd Fort Myers Beach, FL 33931
Abaco Beach Villas
250 Estero Blvd. Fort Myers Beach, FL 33931
Caribbean Beach Club
7600 Estero Blvd. Fort Myers Beach, FL 33931
Pointe Estero Beach Resort
6640 Estero Blvd. Fort Myers Beach, FL 33931