Community & Non-profits
The community in Fort Myers Beach offers services for both vacationers and residents. From government entities to educational institutions to charitable causes, find the information you need here.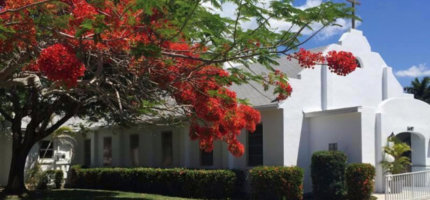 St. Raphael's Episcopal Church
5601 Williams Drive Parish Office Fort Myers Beach, FL 33931
EXPERIENCE THE LOVING CONGREGATION AT HISTORIC ST. RAPHAEL'S ON FORT MYERS BEACH! OUR SERVICES Before all services our 100 year old cast iron bells is rung! We hold a powerful healing service...
[ Read More ]
Greater Fort Myers Beach Area Chamber of Commerce
2450 Estero Blvd. Fort Myers Beach, FL 33931
Fort Myers Beach Community Foundation
PO Box 2834 Fort Myers Beach, FL 33932
WearTheFund
93 Mildred Drive Suite B Fort Myers, FL 33901
SCORE (Southwest Florida)
3650 Colonial Blvd. Suite 231 Fort Myers, FL 33966
Kimmie's Recovery Zone
Dr. Piper Center For Social Services Inc.
2607 Dr. Ella Piper Way Fort Myers, FL 33916
Beach United Methodist Church
155 Bay Road Fort Myers Beach, FL 33931
Lee County Sheriff's Office
14750 Six Mile Cypress Pkwy. Fort Myers, FL 33912
Florida Gulf Coast University
10501 FGCU Blvd S. Fort Myers, FL 33965
Harry Chapin Food Bank
3760 Fowler Street Fort Myers, FL 33901
San Carlos Bay Sail & Power Squadron
16048 San Carlos Blvd Fort Myers, FL 33908
Keep Lee County Beautiful, Inc.
1415 Colonial Blvd. #2 Fort Myers, FL 33907
Fort Myers Beach Lions Club Foundation
PO Box 5019 Fort Myers Beach, FL 33932
Ostego Bay Foundation Inc. Marine Science Center
718 Fishermans Wharf Fort Myers Beach, FL 33931
Fort Myers Beach Woman's Club
174 Stirling Road Fort Myers Beach, FL 33931
Restore Fort Myers Beach Arches, Inc
Fishermans Wharf Fort Myers,
Shell Point Retirement Community
15101 Shell Point Blvd. Fort Myers., FL 33908
Community Cooperative
3429 Dr. Martin Luther King Jr. Blvd. Fort Myers, FL 33916
Friends of Lover's Key Inc
8700 Estero Blvd Fort Myers Beach, FL 33931
Chamber of South West Florida
5621 Banner Drive Fort Myers , FL 33912
Town of Fort Myers Beach
2523 Estero Blvd. Fort Myers Beach, FL 33931
Better Business Bureau Serving West Florida
2655 McCormick Drive Clearwater, FL 33759
Everglades Wonder Gardens
27180 Old 41 Road Bonita Springs, FL 34135
American Legion, Melvin Cowart Post 274
899 Buttonwood Drive Fort Myers Beach, FL 33931
Beach Baptist Church
130 Connecticut St. Fort Myers Beach, FL 33931
Florida Native Butterfly Society
1815 Fowler Street Fort Myers, FL 33901
Cape Coral Museum of History
544 Cultural Park Boulevard Cape Coral, FL 33990
Fort Myers Beach Public Library
2755 Estero Blvd Fort Myers Beach, FL 33931
Fort Myers Beach Fire Control District
100 Voorhis Street Fort Myers Beach, FL 33931
AMIkids Southwest Florida
1190 Main St. Fort Myers Beach, FL 33931
Kiwanis Fort Myers Metro-McGregor
P.O. Box 61104 Fort Myers, FL 33907
Fort Myers Beach Kiwanis Club/Thrift Shop
11050 Summerlin Square Dr. Fort Myers Beach, FL 33931
VFW 10097
17770 Pine Ridge Rd. Fort Myers Beach, FL 33931
Fort Myers Beach Friends of the Arts
7225 Estero Blvd Fort Myers Beach, FL 33931