Banks, Lending & Financial
Enjoy convenient access to your money or take care of business with the Banks, Bookkeeping Services, and more available in Fort Myers Beach. Be confident and know that your money is safe with us!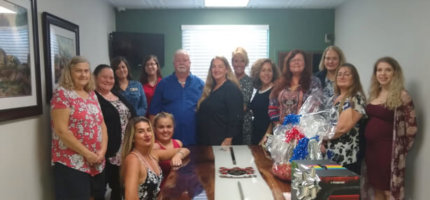 Wilkinson Title Agency, Inc.
11595 Kelly Road, Suite 217 Fort Myers, FL 33908
Wilkinson Title Agency is family owned and operated. We handle timeshare, commercial and residential closings in the entire state of Florida. We have been in the title industry since 1987 and started...
[ Read More ]
The Walker Group at Morgan Stanley
512 Randy Lane Fort Myers Beach, FL 33931
IBERIABANK
7580 Winkler Rd. Fort Myers, FL 33908
Northwestern Mutual
23160 Fashion Drive Suite 217 Estero, FL 33928
Edward Jones & Co.
7205 Estero Blvd., Ste 726 Fort Myers Beach, FL 33931
Brown & Brown Of Southwest Florida, Inc.
6611 Orion Drive Fort Myers, FL 33912
Lurie, LLP
10181 Six Mile Cypress Parkway Suite A Fort Myers, FL 33966
Fort Myers Beach Insurance Brokerage
6051 Estero Blvd. Suite 4 Fort Myers Beach, FL 33931
The Mark Anthony Group
2400 East Commercial Blvd Fort Lauderdale, FL 33308
Movement Mortgage
1400 Colonial Blvd. Suite 31 Fort Myers, FL 33907
Henderson Franklin Starnes & Holt PA
1715 Monroe Street Fort Myers, FL 33902
A-Economical B&B Income Tax Inc.
Call for an appointment Fort Myers, FL
Paychex
3860 Colonial Blvd. #100 Fort Myers, FL 33966
First Horizon Bank
15280 McGregor Blvd. Fort Myers Beach, FL 33931
Flagler Insurance/The Campbell Group
12331 Towne Lake Drive Suite 1 Fort Myers, FL 33913
Sanibel Captiva Community Bank
15975 McGregor Blvd. Fort Myers, FL 33908
Heidrick & Co. Insurance
1648 Periwinkle Way Sanibel, FL 33957
State Insurance USA
4450 Camino Real Way Fort Myers, FL 33966
Massie & Reilly, CPAs, PLLC
15671 San Carlos Blvd Suite 201 Fort Myers, FL 33908
Merrill Lynch – JML II Group
2 East Mifflin Street Madison, WI 53703