St. Raphael's Episcopal Church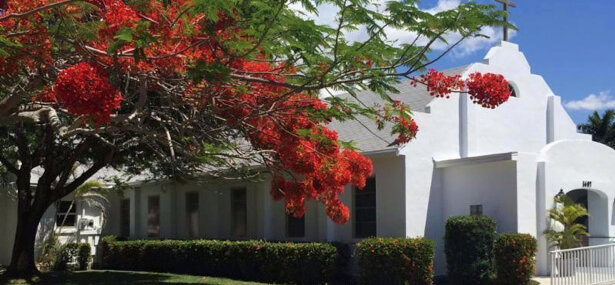 5601 Williams Drive Parish Office Fort Myers Beach, FL 33931
About Us
EXPERIENCE THE LOVING CONGREGATION AT HISTORIC ST. RAPHAEL'S ON FORT MYERS BEACH!
OUR SERVICES
Before all services our 100 year old cast iron bells is rung!
We hold a powerful healing service each Wednesday at 10 AM. Short and informal,
you may choose to receive communion, anointing with oil and the laying on of hands.
OUR SHRIMP DINNERS - THE BEST DEAL IN TOWN!
St. Raphael's is famous for our first Saturday of the month shrimp dinners
from 5 until 7 PM. (During Season: November through April)
Home Made Baked Beans, Coleslaw, Cornbread, & Dessert Soda, Beer & Wine included.
$20 person, no reservations & cash only
COME SEE OUR BUILDING
Our Modern Mission style building, built in the late 1950's is made of sand, coquina shell, and limestone.Simply designed, it is shaped like a cross and features unusual stained glass awning windows.
COMMUNITY HAPPENS AT COMFORT HALL
Our Comfort Hall is available for your important meetings as well as for your new beginning, reception, anniversary, or celebration of life.
Newly remodeled, Comfort Hall features
Commercial Kitchen 20' Long Curtained Stage
Rectangular Tables Matching Folding Chairs
State of the Art AV Equipment
TALK WITH OUR PASTOR
If you have need of an ear and/or would like to meet with John Adler, call his cell: 239.571.3600
A WORD FROM JOHN ADLER
Our culture is experiencing significant change. St. Raphael's is a place where we seek, love, and honor the question, regardless of what the question is.