Sixth Annual Island Hopper Songwriter Fest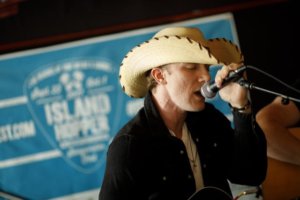 The Sixth Annual Island Hopper Songwriter Fest returns Sept. 20-29, 2019, to fill The Beaches of Fort Myers & Sanibel with music and fun at a number of tropical venues.
The festival will take place over 10 days on Southwest Florida's most beautiful barrier islands. It's also a chance for fans to hear popular songs they've heard on country radio performed by the actual songwriters
Headliners
Headliners include Gone West, a new rock-country quartet featuring Colbie Caillat, in a show with special guest Ryan Hurd at Pinchers at The Marina at Edison Ford in downtown Fort Myers on Sept. 25.
Caillat, a two-time Grammy Award winner, has sold more than six million albums worldwide and more than 10 million singles. Hurd has written songs for Blake Shelton, Luke Bryan, Lady Antebellum, Tim McGraw and many others. He has also penned songs for his wife, Maren Morris, who headlined Island Hopper in 2016.
Nashville-based Gone West consists of two couples, Caillat and her fiancé and singer-songwriter Justin Young, and married songwriters, multi-platinum singer-songwriter Jason Reeves and ACM and CMT nominated Nelly Joy.
Country music hit singer-songwriter Rodney Atkins brings his star power to round out the list of headliners. Atkins will perform on the final night of the festival, Sept. 29, at Pink Shell Beach Resort & Marina on Fort Myers Beach.
Schedule
The 2019 performance schedule will be available in August in the Island Hopper Fest app. You also view it in your website browser.
Island Hopper app
The official Island Hopper mobile app is now available for free download on iOS and Android devices. This new app was designed to enhance your festival experience. Features of the app include:
First chance to purchase tickets for select performances
Personalized schedule
Artist information
Performance times and venues
Festival coupons
Island Hopper hotel deals
Festival maps
Updates and alerts
And more!
Download the app at islandhopperfest.com.
Countdown widget
Are you counting down the days to this year's festival? The new event website features include a countdown widget and an image gallery generated by fans who use #IslandHopperFest.
Island Hopper Radio
iHeart Radio is launching Island Hopper Radio, a channel that includes music written by artists featured at the music festival.
LeeTran Trolley and Tram Service
Heading to Fort Myers Beach for the Island Hopper, Songwriter Festival September 27th-29th? Skip the beach traffic and limited parking! Instead, utilize LeeTran's spacious beach park & ride located on Pine Ridge Rd and leave the beach driving to us! It's simple, just park for free at the park and ride and then hop on the beach trolley so you can ride to the beach stress-free to a day of fun on Fort Myers Beach! For only 75¢ a ride or $2 for an all-day pass, LeeTran's clean, safe, and COOL trolleys can make your trip to the festival a relaxing one. LeeTran will also have free trams running on the beach route, Friday September 27th thru Sunday September 29th. The beach trolley route runs from Bowditch Park at the north end of the island to Lovers Key State Park at the south end and the free beach trams will run from Bowditch Point at the North end to Matanzas Pass Preserve at the South end. So sit back, relax and enjoy the ride.
Trolley Schedule
Click here to see the trolley timetable
Free Tram Schedule
Friday 9/27- 1 tram from 3-11pm
Saturday 9/28- 1 tram from 11am-9pm and another from 1-11pm
Sunday 9/29- 2 trams from noon-9pm
This event runs from September 20, 2019 to September 29, 2019.