Edison And Ford Holiday Nights 2023
December 11, 2023 5:30 pm
---
---
Edison & Ford Winter Estates
2350 McGregor Blvd. Fort Myers, FL 33901
---
Event Website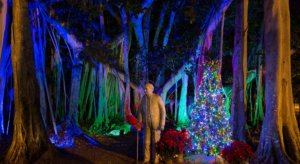 Don't Miss The 48th Annual Edison And Ford Holiday Nights!
Thousands of lights, hundreds of historic decorations, and one unique holiday experience await you nightly! Holiday Nights will run from November 24, 2023 through December 31, 2023, except for Christmas Eve and Christmas night. This year's theme is "Holidays on Wheels" and will incorporate many different types of wheels, especially car wheels because of the connection to Henry Ford, and also wagon wheels, bicycle tires, ships steering wheels, and train wheelsets.
In addition, lights with new technology are being installed this year. Throughout the property, many of the displays will have more lights than ever before. The palms will have animated "magic lights" that will change colors, and for the first time, the historic pond near the river pavilion will be lighted and there will be lights on the waterfall that are animated and choreographed to music.
Tours
Guided Holiday Tradition Tours will be offered at 6 p.m. and 7 p.m. every night or visitors can meander at their own pace on a self-guided tour. Inside-the-Homes tours will be offered on November 29, and December 6, 13, and 20 at 6:30 p.m. for a special up-close looks at the homes' decorated interiors.
Ticket Prices
Holiday Nights tickets for adults are $20, teens (13-19) $10, children (6-12) are $2, and $10 for Edison Ford members. Get tickets online
Guided Holiday Tradition Tours are $30 for adults, teens are $25, children $18, and $15 for Edison Ford members.
Inside-the-Homes Holiday Tours are $50 per person.
Guided tours are not available for advance purchase, and must be purchased in the ticket office on a first-come first-served basis after 4:30pm on the day of the tour. Guided tour admission includes general admission to Holiday Nights to allow visitors to explore on their own at the conclusion of the tour.
Lee County residents with identification will receive $5 off regular-priced Holiday Nights admission on Monday nights.
Special Events Schedule
Tree Lighting
On Friday, November 24 at 6 p.m., this year's event will kick-off with a tree lighting ceremony. Guests will have an opportunity to participate in the countdown with Dave Elias from NBC-2 when the Christmas tree on the Ford property is lit with thousands of animated lights choreographed to holiday music. Female vocalists, the American Sirens, will perform shortly after the tree lighting.
Children's Events
The family-oriented event includes the Children's Tree Trail, which features 50 trees decorated with handmade ornaments from Lee County school children. On Sunday evenings from 6-8 p.m., Santa and Mrs. Claus will be visiting, and on December 3 and 10, children can get their face painted (additional charge for face painting). Then, on December 16 and 23, there will be a teddy bear booth, where children can make a bear (additional charge).
Live Music
There will be music on several nights, including strolling carolers, a pianist, and tenor saxophone and trumpet players. In addition, the Fort Myers Symphonic Mastersingers will perform on December 13. An antique circus car (a Calliope) with a built-in pipe organ will be played at 6 p.m. on December 12. Curators will be on hand to answer questions about the car, which is a modified 1914 Model T Ford.
Market Mondays
Guests can shop for gift items during Market Mondays, when multiple craft and holiday vendors will have booths around the Banyan tree from 4-9 p.m. on December 4, 11, and 18.
This event runs from November 24, 2023 5:30 pm to December 31, 2023 5:30 pm.
Upcoming Dates:
December 10, 2023 | 5:30 PM - 9:00 PM
December 11, 2023 | 5:30 PM - 9:00 PM
December 12, 2023 | 5:30 PM - 9:00 PM
December 13, 2023 | 5:30 PM - 9:00 PM
December 14, 2023 | 5:30 PM - 9:00 PM
December 15, 2023 | 5:30 PM - 9:00 PM
December 16, 2023 | 5:30 PM - 9:00 PM
December 17, 2023 | 5:30 PM - 9:00 PM
December 18, 2023 | 5:30 PM - 9:00 PM
December 19, 2023 | 5:30 PM - 9:00 PM
December 20, 2023 | 5:30 PM - 9:00 PM
December 21, 2023 | 5:30 PM - 9:00 PM
December 22, 2023 | 5:30 PM - 9:00 PM
December 23, 2023 | 5:30 PM - 9:00 PM
December 26, 2023 | 5:30 PM - 9:00 PM
December 27, 2023 | 5:30 PM - 9:00 PM
December 28, 2023 | 5:30 PM - 9:00 PM
December 29, 2023 | 5:30 PM - 9:00 PM
December 30, 2023 | 5:30 PM - 9:00 PM
December 31, 2023 | 5:30 PM - 9:00 PM