Pet Friendly
Bring your furry friend along the next time you head out and about in Fort Myers Beach. We understand pets are part of the family, so enjoy bringing them to these pet-friendly establishments.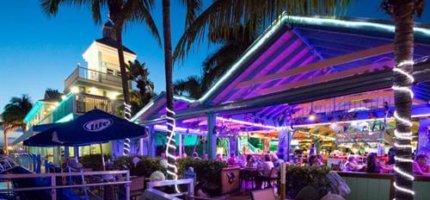 Parrot Key Caribbean Grill
2500 Main Street Fort Myers Beach, FL 33931
Voted Best Waterfront Dining since 2005 by the News-Press readers poll, Parrot Key is still the area's best kept secret. The festive décor and casual ambiance evokes a feeling of various exotic...
[ Read More ]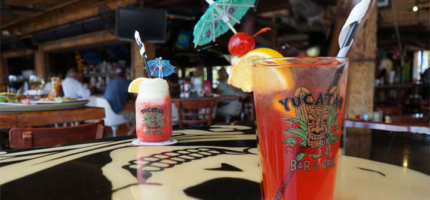 Yucatan Beach Stand Bar and Grill
250 Old San Carlos Blvd. Fort Myers Beach, FL 33931
Welcome to the Yucatan Beach Stand, home of the coldest beer on the beach and the best grouper sandwich in Southwest Florida! Stop in and grab a frozen specialty drink, a frosty beer (chilled at 28...
[ Read More ]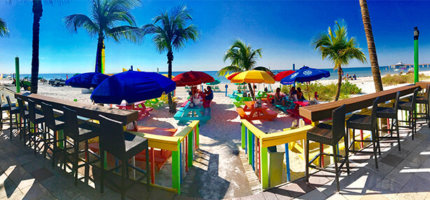 Salty Crab Bar & Grill
1154 Estero Blvd. Fort Myers Beach, FL 33931
Home of the famous Rum Bucket! Located directly on the beach, it's the perfect place to grab some great food, a cold beer, all while digging your toes in the sand. With a fresh new look, and a killer...
[ Read More ]
Truly Scrumptious
7205 Estero Blvd Fort Myers Beach, FL 33931
Tuckaway Cafe
2301 Estero Blvd Fort Myers Beach, FL 33931
Shark Bar & Grill
19030 San Carlos Blvd Fort Myers Beach, FL 33931
Skye's Mexican & More
7205 Estero Blvd Fort Myers Beach, FL 33931
Pinchers Beach Bar & Grill
6890 Estero Blvd Fort Myers Beach, FL 33931
Edelweiss Burger
1365 Estero Blvd. Fort Myers Beach, FL 33931
Nauti Parrot Dock Bar
19001 San Carlos Blvd Fort Myers Beach, FL 33931
Castaway's Bar and Grill
7205 Estero Blvd. Fort Myers Beach, FL 33931
Pete's Time Out
1005 Estero Blvd Fort Myers Beach, FL 33931
Bayfront Bistro LLC
4761 Estero Blvd. Fort Myers Beach, FL 33931
The Beach Bar
1668 I Street Fort Myers Beach, FL 33931
Royal Scoop
2307 Estero Blvd. Fort Myers Beach, FL 33931
La Ola Surfside Restaurant
1035 Estero Blvd Unit #3 Fort Myers Beach, FL 33931
Nervous Nellie's Crazy Waterfront Eatery
1131 First Street Fort Myers Beach, FL 33931
MoJoe's Coffee Bar
1740 Estero Blvd. P.O. Box 6351 Fort Myers Beach, FL 33931
Felipe's Mexican Taqueria
320 Old Carlos Blvd. Suite 2146 Fort Myers Beach, FL 33931
Fish-Tale Waterfront Dining
7225 Estero Blvd. Fort Myers Beach, FL 33931
Plaka Restaurant
1001 Estero Blvd. Fort Myers Beach, FL 33931
Smokin' Oyster Brewery
340 Old San Carlos Blvd. Fort Myers Beach, FL 33931
The Doghouse
1207 Estero Blvd. Fort Myers Beach, FL 33931