Cottages, Villas & Inns
Enjoy the comfort of being just steps from the sand when you stay in a cozy beach cottage, villa, or inn. With most of the amenities found in a traditional home, your getaway will be relaxing and pleasant.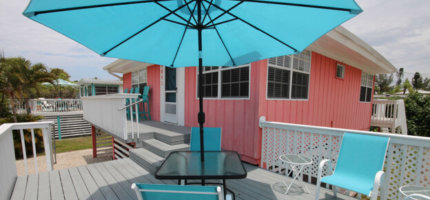 TriPower Vacation Rentals
2001 Estero Boulevard Fort Myers Beach, FL 33931
We've got over 170 vacation rentals to choose from. Many of them come equipped with first class amenities such as free WiFi, washer and dryer, swimming pools and fully equipped kitchens. Our...
[ Read More ]
Silver Sands Villas
1207 Estero Blvd. Fort Myers Beach, FL 33931
Key West style cottages located just 2 blocks from Times Square. 60 steps to the beach, boat docks on canal, bbq grills, tropical garden, pool and much more. Pet Friendly.
Lighthouse Island Resort
1051 Fifth Avenue Fort Myers Beach, FL 33931
Hideaway Village
5607 Estero Blvd Fort Myers Beach, FL 33931
Manatee Bay Inn
932 Third Street Fort Myers Beach, FL 33931
Via Mar Villas
17707 San Carlos Boulevard Fort Myers Beach, FL 33931
The Sea Gypsy Inn
1698 Estero Blvd Fort Myers Beach, FL 33931
Myerside Resort and Cottages
145 School St. Fort Myers Beach, FL 33931
Beach Shell Inn
2610 Estero Blvd. Fort Myers Beach, FL 33931