Weddings, Events & Party Rentals
Fort Myers Beach at sunset is the perfect backdrop for your beachfront wedding. Many of our resorts and accommodations specialize in weddings on the beach. They will make your special day complete and arrange all the lodging and activities needed to bring your families together. Capture amazing sunsets while listening to the soft soothing sounds of the ocean waves as you say "I do." Fort Myers Beach is the perfect place to make your dream wedding come true.
Below you will find links that will help you to plan and host your wedding or other event on Fort Myers Beach. They will make it a day that you and your guests will never forget!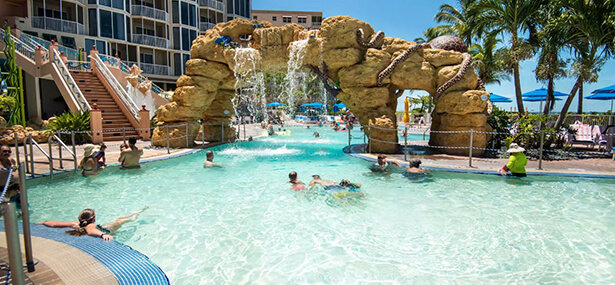 Pink Shell Beach Resort and Marina
Come and stay at the best full service resort on Fort Myers Beach, the famous Pink Shell Resort & Marina! Our deluxe accommodation have everything you need for a comfortable s...
Sub Cat Feature: Kathy Nesbit Real Estate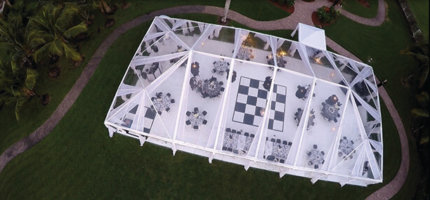 Caloosa Tent & Rental
10879 Metro Pkwy. Fort Myers, FL 33966
Let Caloosa Tent & Rental help you with all your needs for your next big event. We've got tables, chairs, china, flatware and of course tents! If you need staging and lighting or cooking equipment...
[ Read More ]
DiamondHead Beach Resort
2000 Estero Blvd. Fort Myers Beach, FL 33931
All Water Excursions
5001 Coconut Point Road Bonita Springs, FL 34134
Majestic Transportation Services & Airport Taxi
15501-5 Old McGregor Blvd. Fort Myers, FL 33908
Sun Palace Vacations
1750 Estero Blvd. Fort Myers Beach, FL 33931
Sundancer Charters
4765 Estero Blvd. Fort Myers Beach, FL 33931
Lani Kai Island Resort
1400 Estero Blvd. Fort Myers Beach, FL 33931
Tuckaway Cafe
2301 Estero Blvd Fort Myers Beach, FL 33931
Barefoot Event Group
9631 Springlake Circle Estero, FL 33928
Florida Native Butterfly Society
1815 Fowler Street Fort Myers, FL 33901
Empire Photo Booth
18761 Spruce Dr. W. Fort Myers, FL 33967
Matanzas on the Bay
414 Crescent St. Fort Myers Beach, FL 33931
Shangri-La Springs
27750 Old 41 Road Bonita Springs, FL 34135
Creative Events
12090 Metro Parkway Fort Myers, FL 33966
Silver Sands Villas
1207 Estero Blvd. Fort Myers Beach, FL 33931
Myerside Resort and Cottages
145 School St. Fort Myers Beach, FL 33931
Rib City
11561 Majestic Blvd Fort Myers, FL 33908