Get Advance Tickets For The American Sand Sculpting Championship!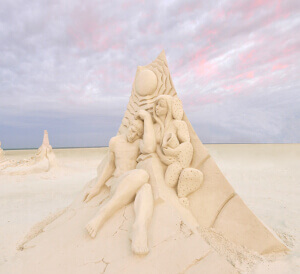 Get your tickets now for the 33rd Annual American Sand Sculpting Championship presented by the Seminole Casino Hotel and save $2 on single tickets or $3 per ticket if you buy a package of 10! Regular price is $8 per ticket. Admission for kids age 4 and under is FREE. A ticket gets you one day's admission to the festival. This offer is good through November 20, 2019 until 5pm.
The Championship runs from November 22 thru December 1, 2019 from 10am-5pm daily on November 22-29 and 10am-6pm on November 30 and December 1. You can pick up your tickets at the event itself at the table marked 'Will Call' before the entrance.You can also pick up your tickets at the FMB Chamber main office at 2450 Estero Blvd. Fort Myers Beach until the end of the day on November 21, 2019. If you need more information please call the chamber at 239-454-7500.
Please click here for single tickets. Cost is $6 per ticket.
Please click here for packages of 10 tickets. Cost is $50 for 10 tickets.