Roar Offshore
THE 2020 EVENT HAS BEEN CANCELED. THEY HOPE TO BE BACK THOUGH IN 2021!
Enjoy Powerboat Racing Excitement With The Roar Offshore
Get ready to celebrate the return of Offshore Powerboat Racing to Fort Myers Beach. This is not just another points race, this is the National Championship Race which will see the culmination of the entire OPA race season crown a Champion. Only on Fort Myers Beach do you have so many up close viewing opportunities to feel the Roar of these amazing Boats going past you at up to 180 mph. The entire race will be visible anywhere on the beach from the pier to mid-Island and on the water in the spectator anchoring area.
This events runs from Oct 10-12 at different times and in varying locations. For a complete schedule of events visit the Roar Offshore event website for more information or follow this event on Facebook.
Please note the Matanzas Pass Bridge will be closed from 5:45 P.M. to 6:15 P.M. on October 10th.
Find a spot to view the race!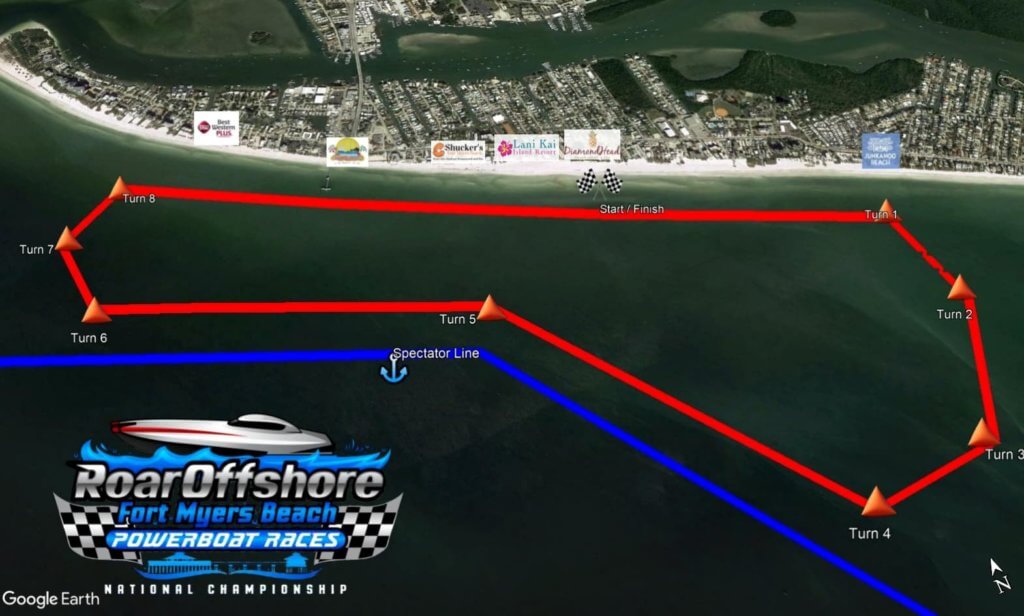 If you can't get down to the beach there will be a Facebook Live broadcast here.
Race results will be available at oparacing.org or p1offshore.com
Volunteers Needed
Volunteers are needed from Wednesday 10/9 to Sunday 10/13. There are many different opportunities so give us a call at 239-238-0777.
Open Containers
Open containers will be permitted in certain areas and at certain times during this event.
Thursday the 10th from 5-10pm, from Times square all the way down Old San Carlos Blvd. to the bay.
Saturday the 12th from 10am to 10pm all along the beach in front of the race course and in Times Square.
Thursday Oct 10 – 7-10pm Frank Torino dance Party
Friday Oct 11 – 3-6pm Tribute Artist Jeff Bradford, 7-10pm Caribbean Grooves
Saturday Oct 12 – 7-10pm Frank Torino Dance Party
Leetran Tram And Trolley Service During The Event
Heading to the Roar Offshore boat races? Skip the beach traffic and limited parking. Instead, utilize LeeTran's spacious beach park & ride located on Pine Ridge Rd and leave the beach driving to us! It's simple, just park for free at the park and ride and then hop on the beach trolley so you can ride to the beach stress-free to a day of fun on Fort Myers Beach! For only 75¢ a ride or $2 for an all-day pass, LeeTran's clean, safe, and COOL trolleys can make your trip to the boat races a relaxing one. LeeTran will also have free trams running on the beach route, Thursday October 9th thru Sunday October 12th. The beach trolley route runs from Bowditch Park at the north end of the island to Lovers Key State Park at the south end and the free beach trams will run from Bowditch Point at the North end to Matanzas Pass Preserve at the South end. So sit back, relax and enjoy the ride.
Trolley Schedule
Click here to see the trolley timetable
Free Tram Schedule
Thursday 10/10 1 tram from 3-9pm
Friday 10-11- 1 tram from 11am-9pm and another from 1-9 pm
Saturday 10/12- 2 trams from noon-9pm
Thanks To These Event Sponsors
Diamondhead All-Suite Beach Resort
GullWing Beach Resort
Pointe Estero Beach Resort
Other Sponsors
Best Western Plus Beach Resort, Creative Web Builders, Double R / Southern RV, Fresh Catch Bistro, Fresh Decks – Marina Mat Dealer, Hi-Def Printing, HONC Construction, iHeart Radio, Junkanoo on the Beach, Lighthouse Island Resort and Tiki Bar, Mango Rita's, Matanzas on the Bay, Myco Trailers, Nervous Nellie's, Nor-Tech Performance Boats, Pierside Grill, Salty Sam's Marina, Shuckers at the Gulfshore and The Cottage, Suncoast Beverage, Sun Palace Vacations, The Beach Bar, and Yucatan Beach Stand
This event runs from October 10, 2019 to October 12, 2019.