32nd Annual Fort Myers Beach Christmas Boat Parade Dec 5, 2020
This event ended on
---
---
North Matanzas Pass
Matanzas Pass Fort Myers Beach, FL 33931
---
The FMB Christmas Boat Parade Will Light Up The Night
INFORMATION FOR THE 2021 EVENT IS COMING SOON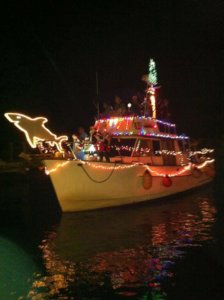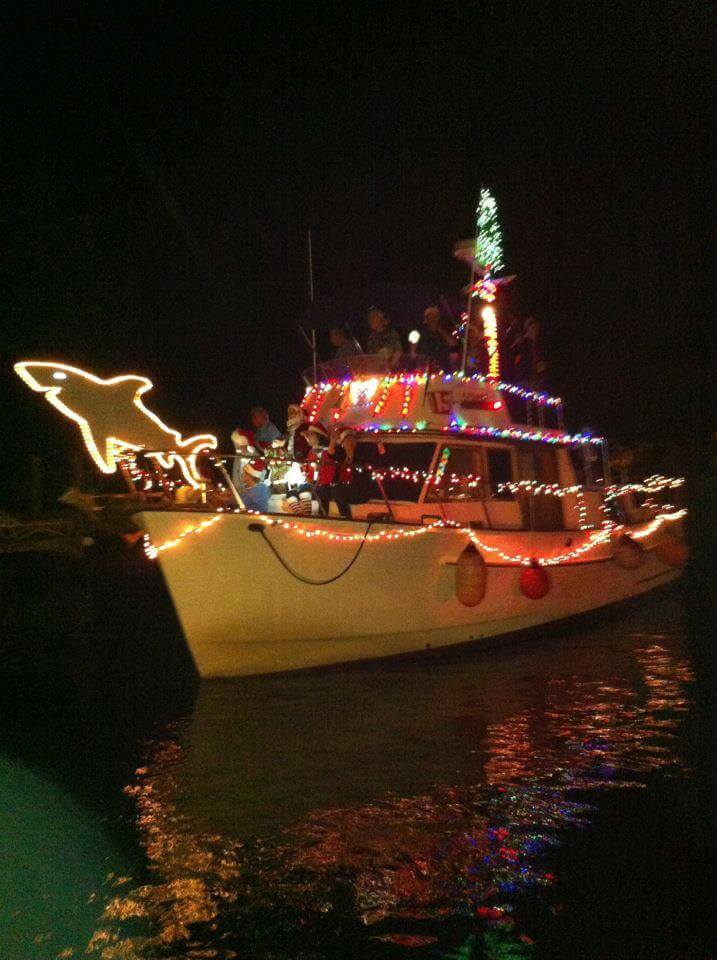 Come enjoy some Christmas spirit at the 32nd Annual Fort Myers Beach Christmas Boat Parade! Last year we were voted the 5th Best Holiday Parade in a USA Today 10BEST poll. This year we were featured in a TravelAwaits article listing 15 fabulous boat parades in Florida. So we're aiming to make this year's parade the best ever!
The parade begins at Salty Sam's Marina and will pass many restaurants on the back bay such as Parrot Key Caribbean Grill, Original Shrimp Dock, Matanzas on the Bay, Nervous Nellie's, Bonita Bill's, Dixie Fish Co. and Doc Ford's where you can kick back and enjoy the fun.
Other spots to watch the parade are near the fountain next to Nervous Nellie's and at the ends of the first two canals in Siesta Isles. Be sure to bring a chair if you go to Siesta Isles.
Another option is to enjoy the parade by water on the Salty Sam's Pirate Cruise, Lagerhead Cycleboats or the Sight Sea-R Cruise.
And if you just plain can't make it, you can watch online with Beach Talk Radio on their Facebook page or Youtube Channel.
It is also important to note that safety measures such as masks are required, and social distancing will be practiced.
"Christmas on the Pontoon" was written by Mike Kuhl/Jeff Randall and sung by Jeff Randall. You can view the lyrics by PDF here.
Vote For Your Favorite Decorated Boat
Click here to vote for your favorite boat.

How To Enter A Boat
Cost is $25 for a non-sponsored boat and $50 for a sponsored boat.
If you want to enter a boat you can register online below, but you must download, fill out and submit the application to us. Alternatively you can also submit the application with cash, check or credit card information for payment. You can download the application here.
Call 239-454-7500 or email events@fmbchamber.com with any questions.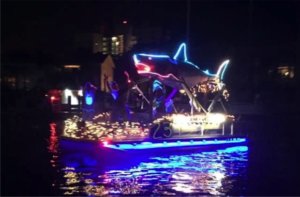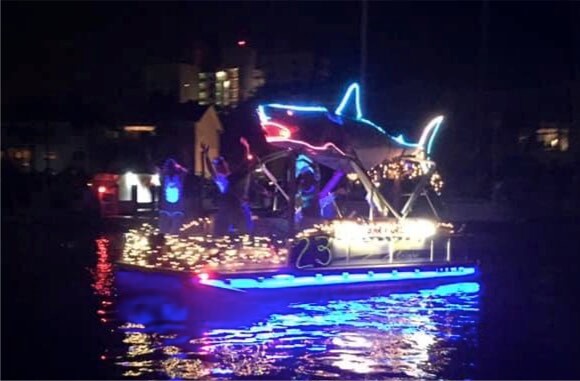 Sponsorship Opportunity: $100 People's Choice Sponsor
Be one of the exclusive "People's Choice" voting locations! Company logo included on event advertising, banner on lead boat, thank you announcement at awards ceremony, Boat Parade website and promotional material, press releases (with early sponsorship registration).
This small sponsorship investment will also help to ensure increased revenue at your location for the evening! It is also important to note that safety measures such as masks are required, and social distancing will be practiced. To sign up for sponsorship, call or email: 239-454-7500, events@fmbchamber.com Your sponsorship is greatly appreciated!!
The Parade Route
Boats will assemble in front of Salty Sam's (anchorage/mooring field) by 5:30pm. They will leave the mooring field area at 6:00pm with the lead boat showing the way. The lead boat will proceed NW, passing Doc Ford's restaurant. Next they will pass under the Skybridge and follow the San Carlos Island Coast past the USCG station and then enter Pelican Bay. The parade then goes into the eastern most Siesta Isles canal, then the next canal.  After the last canal in Siesta Isles the parade will go back into Pelican Bay and then head west towards Bowditch Point. At Bowditch they will head towards Pink Shell. Then they will pass Nervous Nellies with a turn to the starboard to parallel Estero Island. Then they will cross the mooring field and end at Salty Sam's.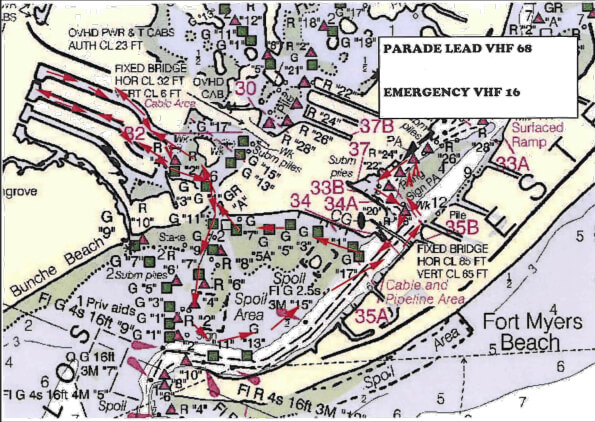 This event is brought to you by the Fort Myers Beach Chamber of Commerce.
Thanks to these 2020 event sponsors:
If you are a business on the parade route and are interested in being a people's choice sponsor you can call 239-454-7500.