Sports Bar & Grill
Enjoy a drink, grab some grub and watch your favorite sports team at the bars and grills around Fort Myers Beach. Bring the family and get ready to order a big plate of Nachos!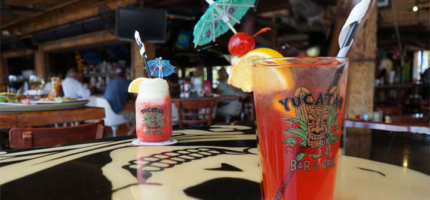 Yucatan Beach Stand Bar and Grill
250 Old San Carlos Blvd. Fort Myers Beach, FL 33931
Enjoy the carefree island spirit, tasty food, live music every night, and the coldest beer on Fort Myers Beach, 365 days of the year. Savor the breeze from the open-air indoor dining room or dine al...
[ Read More ]
Pete's Time Out
1005 Estero Blvd Fort Myers Beach, FL 33931
Sunset Beach Tropical Grill
1028 Estero Blvd. Fort Myers Beach, FL 33931
Junkanoos Restaurant and Beach Bar
3040 Estero Blvd Fort Myers Beach, FL 33931
Hooters
1600 Estero Blvd Fort Myers Beach, FL 33931
Shark Bar & Grill
17979 San Carlos Blvd Fort Myers Beach, FL 33931
The Fish House
320 Old San Carlos Blvd Fort Myers Beach, FL 33931
Castaway's Bar and Grill
7205 Estero Blvd. Fort Myers Beach, FL 33931
Nauti Parrot Dock Bar
19001 San Carlos Blvd Fort Myers Beach, FL 33931
Doc Ford's Rum Bar & Grille
708 Fisherman's Wharf Ft. Myers Beach, FL 33931
Lighthouse Tiki Bar & Grill
1051 5th Avenue Fort Myers Beach, FL 33931