Sports Bar & Grill
Enjoy a drink, grab some grub and watch your favorite sports team at the bars and grills around Fort Myers Beach. Bring the family and get ready to order a big plate of Nachos!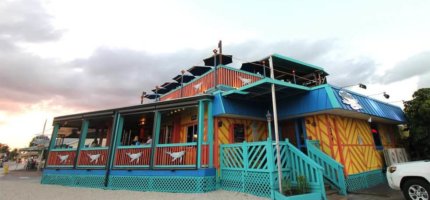 The Whale
1249 Estero Blvd. Fort Myers Beach, FL 33931
We're a favorite spot with both locals and guests for casual and outdoor dining! You can also catch your favorite team on one of our many TV's, enjoy our great happy hour or chill out to some live...
[ Read More ]
Seminole Casino Hotel Immokalee
506 South First St. Immokalee, FL 34142
Dixie Fish Co.
714 Fishermans Wharf Fort Myers Beach, FL 33931
Pete's Time Out
1005 Estero Blvd Fort Myers Beach, FL 33931
Oliver's Place
7205 Estero Blvd. #10 Fort Myers Beach, FL 33931
Lighthouse Tiki Bar & Grill
1051 5th Avenue Fort Myers Beach, FL 33931
Yucatan Beach Stand Bar and Grill
250 Old San Carlos Blvd. Fort Myers Beach, FL 33931
Doc Ford's Rum Bar & Grille
708 Fisherman's Wharf Fort Myers Beach, FL 33931
Bayside Sports Bar and Grille
17853 San Carlos Blvd. Fort Myers Beach, FL 33931
Sunset Beach Tropical Grill
1028 Estero Blvd. Fort Myers Beach, FL 33931
Cabanas Beach Bar & Grille
2000 Estero Blvd. Fort Myers Beach, FL 33931
Felipe's Mexican Taqueria
320 Old Carlos Blvd. Suite 2146 Fort Myers Beach, FL 33931
Matanzas on the Bay
414 Crescent St. Fort Myers Beach, FL 33931