Breakfast & Coffee
Start your morning off on the right foot with a delicious homestyle breakfast and a hot cup of coffee. Whether grabbing a quick bite to eat or enjoying a more relaxing start to the day, enjoy these great establishments on Fort Myers Beach.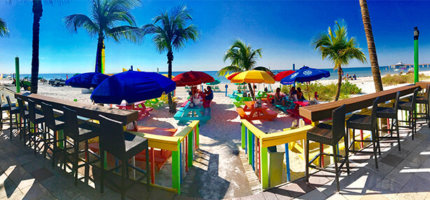 Salty Crab Bar & Grill
1154 Estero Blvd. Fort Myers Beach, FL 33931
Home of the famous Rum Bucket! Located directly on the beach, it's the perfect place to grab some great food, a cold beer, all while digging your toes in the sand. With a fresh new look, and a killer...
[ Read More ]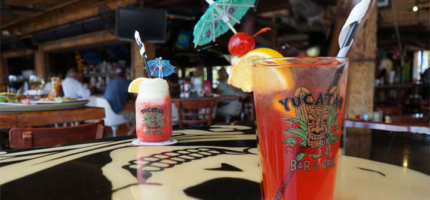 Yucatan Beach Stand Bar and Grill
250 Old San Carlos Blvd. Fort Myers Beach, FL 33931
Welcome to the Yucatan Beach Stand, home of the coldest beer on the beach and the best grouper sandwich in Southwest Florida! Stop in and grab a frozen specialty drink, a frosty beer (chilled at 28...
[ Read More ]
Knotty Bean Coffee Bar
2801 Estero Blvd #K Fort Myers Beach, FL 33931
The Knotty Bean is a unique coffee bar created for our locals and travelers alike. We offer a one on one experience that feels warm and inviting. We welcome all to try our flavors, smoothies that...
[ Read More ]
Casablanca Cafe
1400 Estero Blvd. Fort Myers Beach, FL 33931
Lighthouse Tiki Bar & Grill
1051 5th Avenue Fort Myers Beach, FL 33931
Shuckers at the Gulfshore
1250 Estero Blvd. Fort Myers Beach, FL 33931
Sun Deck Restaurant
1400 Estero Blvd. Fort Myers Beach, FL 33931
MoJoe's Coffee Bar
1740 Estero Blvd. P.O. Box 6351 Fort Myers Beach, FL 33931
Mom's
2450 Estero Blvd. Fort Myers Beach, FL 33931
Pinchers Beach Bar & Grill
6890 Estero Blvd Fort Myers Beach, FL 33931
Royal Scoop
2307 Estero Blvd. Fort Myers Beach, FL 33931
Truly Scrumptious
7205 Estero Blvd Fort Myers Beach, FL 33931
Perkins Restaurant and Bakery
11410 Summerlin Square Drive Fort Myers Beach, FL 33931
Skye's Mexican & More
7205 Estero Blvd Fort Myers Beach, FL 33931
Pete's Time Out
1005 Estero Blvd Fort Myers Beach, FL 33931
Tuckaway Cafe
2301 Estero Blvd Fort Myers Beach, FL 33931