Breakfast & Coffee
Start your morning off on the right foot with a delicious homestyle breakfast and a hot cup of coffee. Whether grabbing a quick bite to eat or enjoying a more relaxing start to the day, enjoy these great establishments on Fort Myers Beach.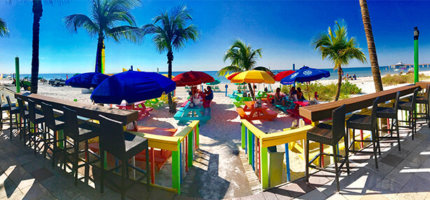 Salty Crab Bar & Grill
1154 Estero Blvd. Fort Myers Beach, FL 33931
Serving breakfast, lunch and dinner, right on the beach, Salty Crab is the best place to kick back and enjoy a Rum Bucket with your toes in the sand. With live music almost daily, and weekly happy...
[ Read More ]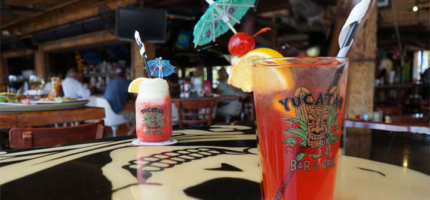 Yucatan Beach Stand Bar and Grill
250 Old San Carlos Blvd. Fort Myers Beach, FL 33931
Stop in to Yucatan Beach Stand and enjoy the tropical vibe and the coldest beer on the island. We serve breakfast, lunch and dinner and have casual fare at a great price to suite any taste. Dine...
[ Read More ]
Lighthouse Tiki Bar & Grill
1051 5th Avenue Fort Myers Beach, FL 33931
Bonita Bill's Waterfront Cafe
702 Fisherman's Wharf Fort Myers Beach, FL 33931
Coste Island Cuisine at DiamondHead Beach Resort
2000 Estero Blvd Fort Myers Beach, FL 33931
Shuckers at the Gulfshore & The Cottage Bar
1250 Estero Blvd. Fort Myers Beach, FL 33931
La Ola Surfside Restaurant
1035 Estero Blvd Unit #3 Fort Myers Beach, FL 33931
Truly Scrumptious
7205 Estero Blvd Fort Myers Beach, FL 33931
Kava Culture
17979 San Carlos Blvd. Fort Myers Beach, FL 33931
Casablanca Cafe
1400 Estero Blvd. Fort Myers Beach, FL 33931
Sun Deck Restaurant
1400 Estero Blvd. Fort Myers Beach, FL 33931
Skye's Mexican & More
7205 Estero Blvd Fort Myers Beach, FL 33931
The Island Cow
2163 Periwinkle Way Sanibel, FL 33957
Mango Rita's
1021 Estero Blvd. Unit A. Fort Myers Beach, FL 33931
Tuckaway Cafe
2301 Estero Blvd Fort Myers Beach, FL 33931
MoJoe's Coffee Cafe
1740 Estero Blvd. P.O. Box 6351 Fort Myers Beach, FL 33931
Pete's Time Out
1005 Estero Blvd Fort Myers Beach, FL 33931
Pinchers Beach Bar & Grill
6890 Estero Blvd Fort Myers Beach, FL 33931
Seminole Casino Hotel Immokalee
506 South First St. Immokalee, FL 34142
The Island's Pancake House
2801 Estero Blvd. Fort Myers Beach, FL 33931