33rd Annual American Sand Sculpting Championship Nov 22-Dec 1, 2019
November 22, 2019 10:00 am
---
---
Wyndham Garden Hotel
6890 Estero Blvd Fort Myers Beach, FL 33931
---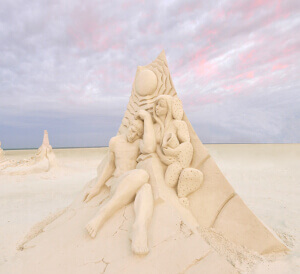 ADVANCE DISCOUNT TICKETS ARE ON SALE NOW! CLICK HERE TO LEARN MORE.
Fort Myers Beach Sand Sculpting Returns!
Come join us on Fort Myers Beach for the 33rd Annual American Sand Sculpting Championship and Beach Festival! This year's Championship promises to be exciting and inspiring, and will be the largest sand sculpting competition in the United States. 
This is a fun-filled event that will include World Class Master Sand Sculptors, as well as amateurs.  Other highlights include Quick Sand Speed Sculpting, Sand Sculpting Demonstrations, a kids activity area, music and a vendor village. There will also be food and beverages available for purchase.
The final Saturday of the festival will feature a special viewing called "Sand Under The Stars". From 6-9pm the sculptures will be illuminated in a spectacular display under the night sky. See ticket pricing below.
Ticket Prices
Prices are for one day's admission
Ages 5 and up – $8
Kids age 4 and under – FREE
Family pack for 2 adults and two children (ages 5-12) – $25
'Sand Under The Stars' Admission – $10 (age 4 and under is FREE)
Parking Information
FREE PARKING AND SHUTTLE SERVICE WILL BE PROVIDED AT THE LOVERS KEY GRASS LOT LOCATED AT
8700 Estero Blvd, Fort Myers Beach, FL 33931
APPROACH FROM THE SOUTH SIDE OF FORT MYERS BEACH
Paid parking will also be available at businesses near the event and at the Wyndham Garden Hotel for $10 and up.
Accepting Vendors
Download an application here. For more information call 239-454-7500 or email [email protected]. If you are a food vendor please contact Jarrod Cain at [email protected].
Volunteers Needed
If you would be interested to help as a volunteer at the American Sandsculpting Championship please contact the Fort Myers Beach Chamber of Commerce at 239-454-7500 or by email at [email protected].
This event runs from November 22, 2019 10:00 am to December 1, 2019 10:00 am.
Upcoming Dates:
November 22, 2019 | 10:00 AM - 5:00 PM
November 23, 2019 | 10:00 AM - 5:00 PM
November 24, 2019 | 10:00 AM - 5:00 PM
November 25, 2019 | 10:00 AM - 5:00 PM
November 26, 2019 | 10:00 AM - 5:00 PM
November 27, 2019 | 10:00 AM - 5:00 PM
November 28, 2019 | 10:00 AM - 5:00 PM
November 29, 2019 | 10:00 AM - 5:00 PM
November 30, 2019 | 10:00 AM - 5:00 PM
December 1, 2019 | 10:00 AM - 5:00 PM