Entertainment Bios
Skeleton Crew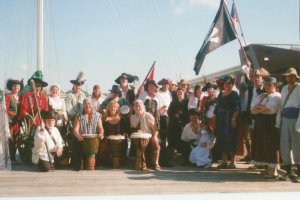 The Skeleton Crew was born of the Golden Age of Piracy and continues to prosper to this day. Making their homeport in Estero, FL and headed by the wily, irreverent, and dashing Captain Robert Flood, the crew has many members, as well as those seeking temporary asylum from the law. Ever present aboard the Briar Rose are the Ship's Navigator, Wrong Way Rachel McBride, First Mate Palastyne Foote, and Helmsman Jingles Scott. The cannon are kept ablaze by the meanest gunners to sail the seven seas, so keep a weather eye out for Broadside Tom, Eric the Red and Typhoon Tom. The Skeleton Crew can be seen sailing the Florida coast on forays to festivals and faires near you, so scan the horizon for the biggest band of scallywags ever to plunder the Florida shores.
---
Jason Smith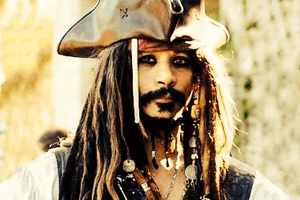 Jason Smith is a professional Captain Jack Sparrow/Johnny Depp impersonator with over 10 years' experience. His spotlight includes both stage and screen. A father of 2 beautiful girls, who also pirate with him, he performs his family variety show coast to coast & he is looking forward to meeting you.
---
Arrr, Inc.
Acme Rouge and Ruffin Recruiters…..ARRR,ink for short! We enjoy being part of a unique art form, interactive entertainment.
In this day of electronics, where you can download and watch entertainment of every conceivable form instantly on your TV, computer or cell phone, the art of live entertainment is harder to find. There is nothing like the feeling of seeing live performers at a show. Interactive entertainment goes a step further, you the audience are part of the entertainment. You are interacting with live pirates, anything can happen!
We also love to work the lanes between shows playing with the folk, advertising the show and just generally having fun. Our entertainment is always family appropriate fun. We play with kids (which is our specialty), teens (we have lived through raising a few) and adults (none in our group, but we have read up on them).
---
Cannibal Chrispy

Master of Ceremonies Cannibal Chrispy A veteran of 20 years on tour with world class bands as a stage manager turned to Piracy roughly a decade ago. His upbeat mannerisms and off the wall antics both on and off stage add up to "comic relief at its best". Chrispy – It's not just a name… it's a life style!
---
Steadfast Steel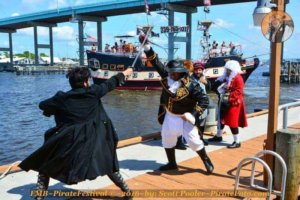 The fastest blades in the seven seas return. Don't miss this group of pulse pounding swashbucklers as they dazzle the eye, defy logic, and delight their audiences. Whether it is showcasing historic fighting techniques used by pirates through the ages at their stage shows or engaging in a death defying battle on the docks. Be sure to check out Steadfast Steel.
---
Mike Quinn, AKA The Skeleton Pirate
Hailing from the Southwest Florida area, Mike Quinn, also known as The Skeleton Pirate has been involved with Pirate Performance Art for the past 8 years. He's been seen all over Florida, and as far and wide as Georgia, Maryland and Indiana, entertaining festival crowds and honing his craft as a street performer. Keep a weather eye out for the Skeleton Pirate, and maybe even The Freaky Tiki will make an appearance! Make sure to find his booth on Vendors Row to purchase one of his handmade original necklaces!
---
Celtic Conundrum
Celtic Conundrum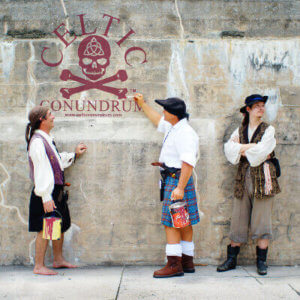 was formed on the idea of playing music as culturally diverse as the crew you would find on a pirate ship, a dock, or a pub by the port. Songs and instruments that came with them from the pubs and taverns of their home countries. Music to dance, sea shanties to work by, songs to sing and share. Songs from Ireland, Scotland, and England, and the great colonies of America and Australia. Shanty classics and original music blends influence from other parts of the world with our Celtic heritage; thus, the conundrum! The members of the band have played nationally and internationally before happening upon each other to form this unique trio of talented musicians. You will not want to miss their debut at Fort Myers Beach Pirate fest, for their original music and classic sea shanties!
---
Master Gunner, Chris Jones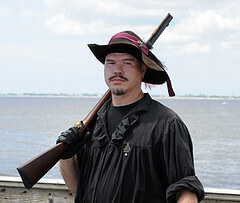 Master Gunner, Chris Jones (aka Klaus), calls the Tampa Bay area his home. Chris is the man who keeps all the scallywags in order on the gun line and orchestrates a flawless show for the world famous sea battle known as "The Clash in the Pass." Chris' crew of Pirates are all seasoned actors who have participated fight circles, human chess matches, black powder demonstrations and various battles at festivals around the country. Chris is also a founding member of the Fort Myers Beach Pirate Festival, which has been flourishing with his guidance and expertise in all things that go BOOM!
---
Gulf Coast Black Powder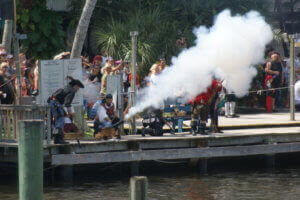 The pirates of Gulf Coast Black Powder are all seasoned actors who have participated fight circles, human chess matches, black powder demonstrations and various battles at festivals around the country. This talented group has been a part of the Fort Myers Beach Pirate Festival since its inception, and continues to thrill festival goers with spectacular displays of well choreographed gun play and perfectly staged fight scenes that are sure to be remembered.
---
The Rusty Anchors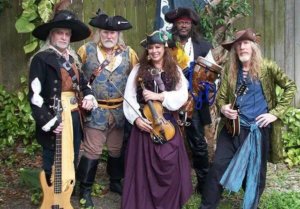 Hailing and sailing from Old Town St. Augustine, Florida, The Rusty Anchors are a group of professional musicians gone Pirate. Performing Sea Shanties and Island Music, the band has been entertaining at festivals and events all over the Southeast for more than 4 years now.  Hear The Rusty Anchors.
The Crewe:James Knowles (Capt. Dirty James) Guitar & VocalsAngelina Morgan – Fiddle, Bodhran & Tin whistlesMark Wood (Barbosa) Bass, Guitar & VocalsReuben Morgan – Mandolin, Guitar & VocalsAnthony Brisbane (Capt. Jack Black) Drums, Percussion & Vocals
---
Lord Sir Henry Hyde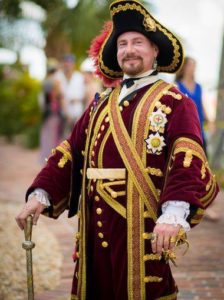 His Excellency, Lord Sir Henry Hyde, Lord Governor Plenipotentiary of Her Majesty's Colonies in the New World. He is a gentile British aristocrat, whose position has made him the richest and most powerful man in the colonies. He is as cultured and charming with his friends as he is dangerous and lethal to his enemies. His policy on pirates is "Hangem' from the highest yardarm!", if they are not in possession of a letter of marque from the Crown, that is. Lord Hyde is portrayed by Timothy Fraley, a classically trained Shakespearean actor with over 35 years of experience delighting audiences with his personal interactive improvisational style. This "man of a thousand characters" is a native of South Florida, and his popular and beloved characters have performed at many Pirate, Renaissance and Medieval Festivals all over the U.S.
---
The Black Duck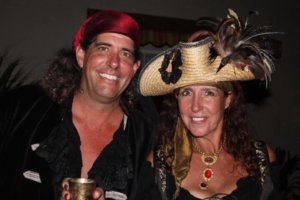 "Epic adventures await your pleasure aboard the legendary "Black Duck".  This Freedom 40′ Cat Ketch, was originally designed and built in 1979 for the actor Donald Sutherland.  The Black Duck hails most recently from Key West, but now finds Venice, FL its current home. This magestic sailing vessel and her incredible owners/crew, Captain Mac and Best Mate Lady Renee, will provide the ambiance for a magnificent sail filled with swashbucklin' shenanigans and tales…From the moment you step onto her decks, your cares will be cast into the fair winds…If you  scan the horizon at sunset, your eyes will often see this beauty pillaging and plundering the shores of the Suncoast.  Many a day will you encounter playful dolphins, pelicans, sea turtles, manatees, and other creatures of the sea.  Come take The Black Duck journey if ye dare into the magical world of friendly sailors and smiling spirited pirates."
---
For Love or Money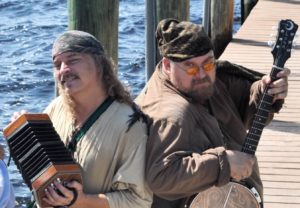 "For Love or Money" has played their music in every port and cantina around the coast, music from every harbor that sent their sons to sea. At each Gathering of the Krewes, you'll find pirates and land-folk alike raising a tankard and dancing to the music of David Waterman and Jen Shumilak. They hail from the Bay of Tampa and look forward to seeing you on the pier when they arrive at Fort Myers Beach!
---
West of Galway

West of Galway have been entertaining Irish / Celtic music loving crowds since 2003 in Pubs and on the Festival circuit up and down the East Coast of the USA. The band members are friends who met through music and shared stories of growing up with Saturday Night Kitchen Parties with their families. The Irish / Celtic Music and Family tradition is the same all over the world. West Of Galway is proud to carry on and share that very same tradition. Through the years our fan base has grown with the love and passion shared for Irish / Celtic Music throughout the USA.
Our goal since we started is to re-create the atmosphere inside a Pub in Ireland. Since 2003 we've been accomplishing that goal. We love to share that feeling every week with our fans.
---
Belinda Hadcock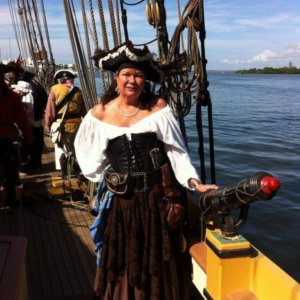 A lifelong resident of Southwest Florida, Belinda Hadcock grew up on the shores of the beautiful Gulf of Mexico. Her love of acting, theatrical make up and costumes emerged early on when she discovered Halloween, which soon became her favorite holiday. In 1993, while visiting friends in Kenosha, WI and looking for something to do, Belinda happened upon the Bristol Renaissance Faire; as soon as she entered the gates, she knew she was home. Over time, Renaissance Faires translated into Pirate Festivals as she blended her theatrical background with her natural ease on the water to create her own unique Pirate Persona.
Belinda has been a key part of the Fort Myers Beach Pirate Festival since it began in 2006, and accepted the role of Entertainment Director in 2012. Her roots in the Pirate Community make her a natural fit for this position, and her leadership has expanded the festival to include more participation by local merchants as well as members of the surrounding community. Belinda also owns Skeleton Crew Entertainment, which offers live pirate-themed events throughout the region.