Free Wi-Fi
Take care of business or check to see what's going on in the world. The places below pride themselves in offering Free Wi-fi to residents and visitors.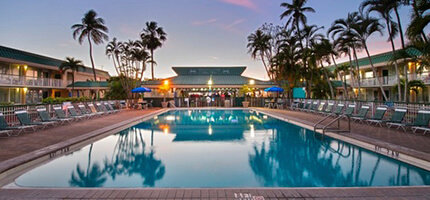 Wyndham Garden Hotel
6890 Estero Blvd. Fort Myers Beach, FL 33931
Located directly on the Gulf of Mexico offering 300 yards of white sandy beach. Accommodations include 103 tropically decorated rooms, including beachfront units and fully equipped gulf front suites....
[ Read More ]
Best Western Plus Beach Resort
684 Estero Blvd. Fort Myers Beach, FL 33931
All Rooms Overlook The Beach! Come discover the BEST WESTERN PLUS Beach Resort located in Fort Myers Beach, Florida. Our resort is located directly on a secluded beach at the north end of Estero...
[ Read More ]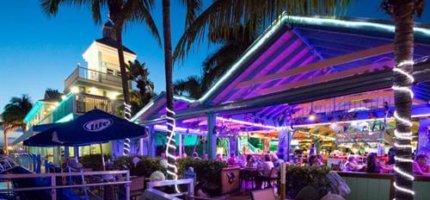 Parrot Key Caribbean Grill
2500 Main Street Fort Myers Beach, FL 33931
Voted Best Waterfront Dining since 2005 by the News-Press readers poll, Parrot Key is still the area's best kept secret. The festive décor and casual ambiance evokes a feeling of various exotic...
[ Read More ]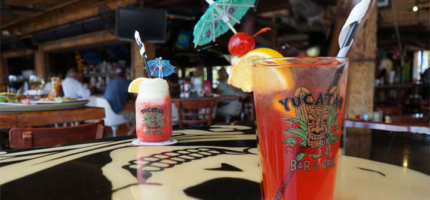 Yucatan Beach Stand Bar and Grill
250 Old San Carlos Blvd. Fort Myers Beach, FL 33931
Welcome to the Yucatan Beach Stand, home of the coldest beer on the beach and the best grouper sandwich in Southwest Florida! Stop in and grab a frozen specialty drink, a frosty beer (chilled at 28...
[ Read More ]
Residence Inn by Marriott
20371 Summerlin Road Fort Myers, FL 33908
Enjoy luxury and value at Residence Inn Fort Myers Sanibel. Our Fort Myers hotel features one and two-bedroom suites, including pet-friendly accommodations. We boast a great location within minutes...
[ Read More ]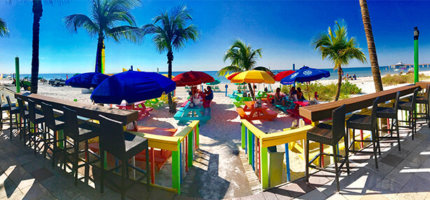 Salty Crab Bar & Grill
1154 Estero Blvd. Fort Myers Beach, FL 33931
Home of the famous Rum Bucket! Located directly on the beach, it's the perfect place to grab some great food, a cold beer, all while digging your toes in the sand. With a fresh new look, and a killer...
[ Read More ]
Edison Beach House
830 Estero Blvd. Ft Myers Beach, FL 33931
Forget about reality, because at The Edison Beach House, only paradise exists. Lounge in style at one of the top hotels located right on Fort Myers Beach, where a gorgeous oceanfront view from...
[ Read More ]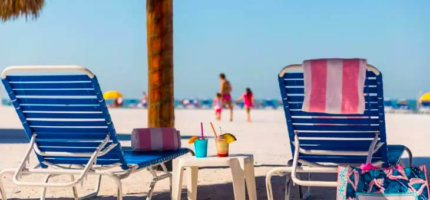 Pink Shell Beach Resort and Marina
275 Estero Boulevard Fort Myers Beach, FL 33931
Get a beach view room, guaranteed! Plus, every reservation includes breakfast for two each day, two drinks, two bottles of Voss water, Pink Shell beach bag, and daily beach lounge chairs &...
[ Read More ]
Island View Restaurant at the Lani Kai
1400 Estero Blvd. Fort Myers Beach, FL 33931
MoJoe's Coffee Bar
1740 Estero Blvd. P.O. Box 6351 Fort Myers Beach, FL 33931
Publix Supermarket Inc #578
11600 Gladiolus Dr Fort Myers, FL 33908
Rib City Grill
11561 Majestic Blvd Fort Myers, FL 33908
Bird of Paradise
2141 Estero Blvd. Fort Myers Beach, FL 33931
Matanzas on the Bay
414 Crescent St. Fort Myers Beach, FL 33931
Publix Supermarket Inc #740
4791 Estero Blvd. Fort Myers Beach, FL 33931
Publix Supermarket Inc #775
15880 Summerlin Rd Fort Myers, FL 33908
Casablanca Cafe
1400 Estero Blvd. Fort Myers Beach, FL 33931
Bayfront Bistro LLC
4761 Estero Blvd. Fort Myers Beach, FL 33931
Sabal Palm Beach Bar and Grill
1400 Estero Blvd. Fort Myers Beach, FL 33931
Tuckaway Cafe
2301 Estero Blvd Fort Myers Beach, FL 33931
Publix Supermarket Inc #648
20321 Summerlin Rd. Fort Myers, FL 33908
Fort Myers Beach Inn
235-245 Mango St. Fort Myers Beach, FL 33931
Caribbean Beach Club
7600 Estero Blvd. Fort Myers Beach, FL 33931