October 2023 Membership Luncheon at The Rude Shrimp Co. Sponsored By AM Speaking & Consulting
This event ended on
---
---
The Rude Shrimp Co.
450 Harbor Court Unit 1 Fort Myers Beach, FL 33931
---
Let's Get Rude For Our Luncheon
Please join us at The Rude Shrimp Co. for our October luncheon. Cost is $30 for FMB Chamber members and $40 for prospective members.
Guest Speaker And Sponsor
Annie Meehan of AM Speaking & Consulting will be both our speaker and our sponsor for our October luncheon. Annie will have copies of her latest book Choose To Soar for sale. In addition, this month if you are a Chamber member Annie is offering BOGO on books bought on her website or at the chamber lunch.
Topic: Weathering The Storms
Over the past three years, our economy, healthcare system, businesses, and families have been hit hard by devastating storms. However, it's important to recognize that these storms didn't just appear out of nowhere. Many of us have been navigating through turbulent times for quite some time now. That's why I'm excited to present 'Weathering the Storms', a powerful presentation that will equip you and your team with the tools and strategies needed to overcome any obstacle. With a combination of hope, a solid plan, and actionable steps from Annie, you'll be able to persevere through the eye of the storm and emerge stronger than ever before. So let's face these challenges head-on and come out victorious!
About Choose To Soar
Inspired by surviving Hurricane Ian on September 28th, 2022, this book is a guide to soar above disruption in business and life in our lives so that we come out stronger on the other side. Besides showing you how to rise above trouble and become the best you can be, you get access to strategies, tools, and techniques that help you thrive in your professional and personal life.
Buy Choose To Soar on Amazon.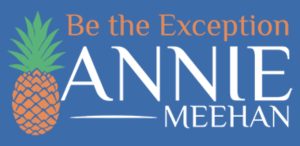 Register for this Event
Bookings are no longer available for this event.