Post-Ian Update For Southern Serenity Beach Vacation Rentals
November 1, 2022
•
Stay
We Will Be Back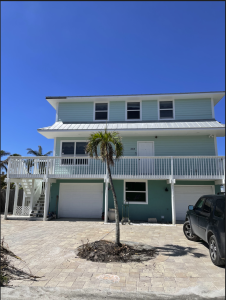 Hurricane Ian, which missed category 5 status by just 2 mph, is projected to be the costliest natural disaster to hit the United States surpassing Hurricane Katrina at $108 billion. Estero Island/Fort Myers Beach took the brunt of Ian's impact with an estimated 80-90% of the structures either destroyed or in need of demolition.
The picture you see above was taken Sun., 10/16. It shows missing soffit and destroyed landscaping, but we're happy to report that we're still standing. Like most of the people and businesses on the island, we plan on rebuilding bigger & better than before. The 14′ storm surge caused us to take on about 8′ of water on the lowest level, but the second & third levels were untouched. We've received sign-off from a structural engineer that we're structurally sound – a prerequisite to obtain the necessary permits for the rebuild/remodel. The necessary electrical repairs were completed yesterday and we're currently in queue at Florida Power & Light to have our services restored. After power is restored, our first order of business will be to restore the pool and pool deck area that we all love so much.
We're currently closed to new reservations and we've processed, at your respective requests, all reservations through January 20, 2023 with full refunds. If you have a current reservation that you need to cancel, you can do so by emailing us at [email protected] or by calling us at 317-490-5378. If you wish to hold on to your reservation and see how far along the rebuild of Fort Myers Beach comes before your travel dates, know that we'll honor your reservation cancellation with full refund all the way up to your travel dates until further notice.
We think that we'll be back up-and-running, certainly, by the end of the year. We're encouraged by all of the bars, restaurants, fishing and sight seeing charters, and other businesses that cater to tourism that are already open or who are pushing to open before Thanksgiving. That said, we know that Fort Myers Beach won't be fully back for some time and we know that your Southern Serenity experience is, in part, about the walkability of all the island has offer. If you choose to cancel your reservation and travel elsewhere next year, we'll totally understand and just ask that you come back when the time is right.
If you're on social media, please follow us at www.Facebook.com/SouthernSerenityFMB. While you're there, please share a picture or two of your favorite memories of your time at Southern Serenity. You can also check our website at www.SouthernSerenityFMB.com for regular updates. If you'd like to support the FMBStrong rebuilding effort, please consider purchasing a tee shirt. And if you have any questions or concerns, please don't hesitate to reach out to us.
Thank you for your continued loyalty and support.
Brad & Shelley Wethington