Homestretch Sportswear Distributes $30,000 In Relief
November 25, 2022
•
Services
Homestretch Sportswear Is A Hurricane Hero!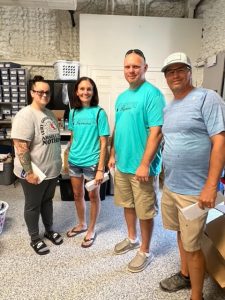 Kelly and Tony Kremer of Homestretch Sportswear flew down from their hometown of St. Henry, Ohio, recently to distribute the first round of checks their fundraiser has raised so far for Fort Myers Beach businesses and their employees. Kelly and Tony handed out some of the $30,000 in profit checks to a number of participating businesses at the Disaster Relief Center set up on Buttonwood on San Carlos Island. Other businesses opted to have their checks mailed or direct deposited.
Kels parents, Don and Donna Hess, and their family, have wintered on Fort Myers Beach for many years and have built many lifelong friendships. After hearing about the destruction and devastation of Hurricane Ian to our community, the family moved quickly to set up a fundraising opportunity to help businesses from afar.
"The Fort Myers Beach area has been dear to our hearts for more than 20 years," said Kremer. "The hospitality and friendships over the years from the local businesses has been a life changer for all of our families."
Using their family business of 34 years, Homestretch Sportswear, they began printing and selling T-shirts with $17 per shirt going back to the business on the front of the shirt.
"These businesses are now uprooted and devastated and need our support," Kelly said. "We can't change the result of this devastation, but we all can be part of the moving forward process."
Businesses are being added daily, and the Kremers and/or the Hess's will be hand-delivering checks in person monthly. In addition to T-shirts, tank tops and hoodies are now available, as well.
Kelly added: "It's our turn to show Fort Myers Beach how we appreciate their businesses, so we can see the same smiling faces at the same small business soon!"
For more information, or to add your business, call 419.678.4282, or visit https://homestretchsportswear.printavo.com/merch/fmbstrong. 100% of the proceeds will go to the business of which shirt you choose to help their employees.